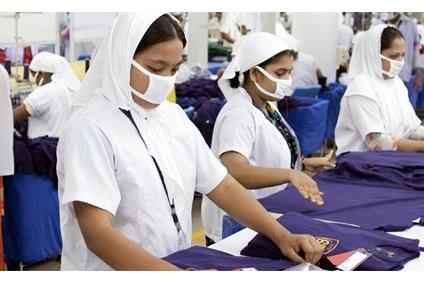 The Bangladesh Garment Manufacturers and Export Association (BGMEA) has advised factories in the country to continue to remain closed during the Covid-19 pandemic until it instructs them otherwise.
Earlier this month, the industry body backed the government's general holiday for factories, except for those producing personal protective equipment, in a bid to help slow the coronavirus outbreak.
In an update on Friday (24 April), the BGMEA said: "To keep the economy running, and considering the overall situation, BGMEA will advise you on opening of factories. Until this direction is received, you are kindly requested not to ask workers (who are in their villages) to return to Dhaka."
The industry body says "a zone-wise staggered approach" will be adopted to open the factories in a limited capacity, whereby in the first phase only workers living near the factories should be asked to return to work.
It adds: "BGMEA is requesting your not to retrench any workers on humanitarian grounds. If, under any circumstances, the workers residing outside return to Dhaka in an unsupported and irregular way, then BGMEA will not be able to help you as an association in this regard. Your factory opening date will be communicated to you through email."
Reports have emerged that some owners of ready-made garment factories have ignored the original directive and kept their units open across the country.
Last week, the Bangladesh government warned it would take action against garment factories that do not pay their staff during the lockdown. Labour Ministry official, Shibnath Roy, told Reuters that businesses that do not pay staff would not receive any more money from a US$588m rescue package announced last month for the sector.
The latest BGMEA estimate shows 1,145 factories with 2.27m workers have seen export orders worth US$3.17bn cancelled or suspended by global retailers and brands.