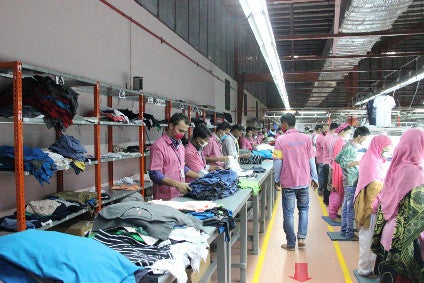 The Bangladesh Garment Manufacturers and Exporters Association (BGMEA) has backed the government's general holiday for factories, except for those producing personal protective equipment, in a bid to help slow the Covid-19 outbreak.
The Bangladesh Export Processing Zones Authority (BEPZA) issued a statement on Sunday (5 April), declaring a general holiday from 6 April to 14 April for all the factories of eight EPZs under BEPZA in a bid to check the spread of novel coronavirus.
"All kinds of production activities will remain closed during this time," it said.
The BGMEA had said a day prior that it did not have the jurisdiction to close factories but has been recommending closure, except for those facilities producing PPE and urgent export items.
In a statement on Saturday, the trade body said: "To prevent coronavirus spread, staying home is the best option, and when outside, strict social distancing is strongly advised.
"As RMG factories have started to distribute their March 2020 salary, factories are taking maximum precautions while paying wages to their workers. Designtex Ltd, a Bangladeshi garment factory, is such an example. The factory has paid wages to all of their 2,400 workers in cash in a single day, and of course strictly maintaining social distancing. They have also declared holiday till 14 April in line with the latest government declaration."
In a letter to the president of the BGMEA on 27 March, the state-run Department of Inspection for Factories and Establishments (DIFE) – part of the ministry of labour and employment – said factories with ongoing purchase orders could continue operating so they can fulfil them. Plants that make personal protective gear, masks and other medical equipment could also stay open.
Reports, however, have emerged that some owners of RMG factories have ignored the directive and kept their units open across the country.
BGMEA president Rubana Huq is understood to have urged owners, in an audio statement, to keep their factories closed under the government guidelines to contain the spread of Covid-19. She also assured the workers they would get their wages and salaries for March.