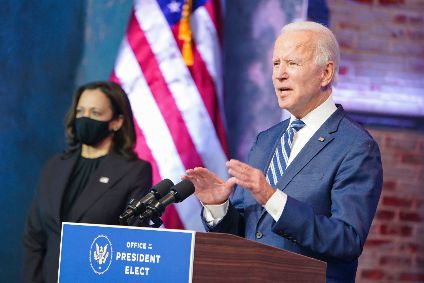 US President Joe Biden has announced a new target for the United States to achieve a 50-52% reduction from 2005 levels in economy-wide net greenhouse gas pollution by 2030 to tackle the climate crisis.
The target was made on Earth Day yesterday (22 April) during the Leaders Summit on Climate that the President is holding to challenge the world on increased ambition in combatting climate change. It is part of Biden's focus on building back better in a way that will create millions of union jobs, ensure economic competitiveness, advance environmental justice, and improve the health and security of communities across America.
Biden has rejoined the Paris Agreement and set a course for the United States to tackle the climate crisis at home and abroad, reaching net-zero emissions economy-wide by no later than 2050. As part of re-entering, he also launched a whole-of-government process, organised through his National Climate Task Force, to establish the new 2030 emissions target – the Nationally Determined Contribution (NDC), a formal submission to the United Nations Framework Convention on Climate Change (UNFCCC).
"The United States is not waiting, the costs of delay are too great, and our nation is resolved to act now," a Whitehouse statement asserts.
"Creating jobs and tackling climate change go hand in hand – empowering the US to build more resilient infrastructure, expand access to clean air and drinking water, spur American technological innovations, and create good-paying, union jobs along the way."
America's 2030 target supports President Biden's existing goals to create a carbon pollution-free power sector by 2035 and is consistent with limiting global warming to 1.5 degrees Celsius, as science demands.
It has been welcomed by the National Association of Manufacturers (NAM), whose president and CEO Jay Timmins says: "We look forward to learning more specific details of the administration's plan, and manufacturers are ready to work with policymakers on both sides of the aisle to achieve success for our nation and world. "
The 2030 reduction target comes after hundreds of businesses and investors signed an open letter to the President earlier this month, indicating their support for a federal climate target to reduce emissions.
Levi Strauss & Co, H&M Group, Nike Inc, PVH Corp, Ralph Lauren Corporation and VF Corporation were among the signatories of the letter which was organised by the We Mean Business coalition and Boston-based sustainability non-profit Ceres.
Click here to see: What the fashion industry is doing for Earth Day.