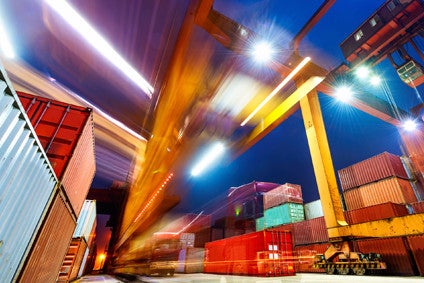 Nine leading ocean carriers and terminal operators have joined forces to develop an open digital platform based on distributed ledger technology designed to enable collaborative innovation and digital transformation in the supply chain.
The Memorandum of Understanding (MoU), signed earlier this week, sees the formation of a consortium to develop the Global Shipping Business Network (GSBN).
The participants include ocean carriers CMA CGM, Cosco Shipping Lines, Evergreen Marine, OOCL, and Yang Ming; terminal operators DP World, Hutchison Ports, PSA International Pte Ltd, and Shanghai International Port; and software solutions provider CargoSmart.
The new platform will establish a digital baseline that aims to connect all stakeholders, including carriers, terminal operators, customs agencies, shippers, and logistics service providers to enable collaborative innovation and digital transformation in the supply chain.
The container shipping industry is often characterised by disparate processes that take place across both physical and digital domains. Companies are increasingly looking towards digital technologies to resolve siloed shipment management procedures and disruptive information gaps. The consortium is expected to offer a forum to address these challenges, explore cross-industry opportunities, and empower future innovation and insights.
The consortium's leading members intend to collaboratively develop the platform and establish standards to facilitate the seamless sharing of documents and data across all stages of the shipping lifecycle.
More specifically, based on blockchain technology, the platform will enable members to develop applications and connect to other consortium networks to increase the speed of data integration and improve business performance. Peer-to-peer networking will also allow data owners to share immutable records with other shipment stakeholders, enabling them to take quick action regarding critical milestones and to keep cargo moving throughout the supply chain.
The platform will also be seen as a digital baseline for standards, providing a foundation for highly collaborative initiatives and market intelligence.
"As a founding member of the GSBN consortium, Hutchison Ports recognises the potential of blockchain technology to be the key game changer with far-reaching impact on global supply chains, bringing immense benefits to all aspects of operations and end-to-end visibility throughout the entire supply chain," says Ivor Chow, director of corporate finance & business development of Hutchison Ports. "This collaboration brings together major industry players who strive to develop an open digital platform that will deliver efficiency gains and reduce costs of transactions."
The move marks the continuation of a growing trend in the blockchain sector, with a raft of major corporations aiming to disrupt supply chain infrastructure with the technology's introduction.
In September, two of the world's busiest ports, Shanghai and Guangdong, became the first to benefit from new digital supply chain technology backed by artificial intelligence (AI) and blockchain thanks to a new joint venture (JV) agreement.
There is also a growing interest in using technology at ports for greater efficiency. In August, a pilot project launched at the Port of Long Beach with the aim of enhance advance planning, utilising software to access data that will allow them to move cargo containers more efficiently.