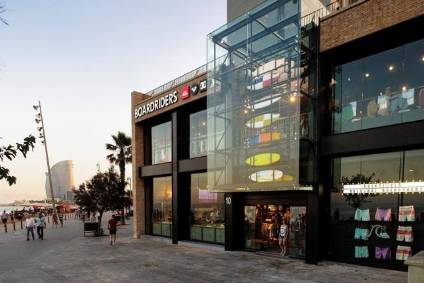 Boardriders Inc, a global action sports and lifestyle company that owns and operates the Quiksilver, Roxy, and DC Shoes brands, is to acquire embattled Australian surfwear brand Billabong International.
Shares in Billabong were up 2.6% this morning (5 January) following the news, which will see Boardriders acquire all of the shares of Billabong.
The combination of Boardriders and Billabong will create the world's leading action sports company with sales to over 7,000 wholesale customers in more than 110 countries, owned e-commerce capabilities in 35 countries, and over 630 retail stores in 28 countries. The combined company will include some of the most coveted brands in the industry as Billabong, RVCA, Element, VonZipper, and Xcel are added to the Boardriders family of brands.
News of the acquisition first broke in December of last year, sending shares in Billabong soaring 22%.
Upon closing of the transaction, the terms of which were not disclosed, Dave Tanner, currently managing director at Oaktree and chief turnaround officer for Boardriders, will become CEO of Boardriders. Meanwhile, Pierre Agnes, currently Boardriders CEO, will assume the role of president and will remain a member of the board, leading a substantial portion of the integration of the two companies.
"The combination of these two leading action sports companies, which include a broad range of iconic brands with deep heritage in surf, snow and skate, is very exciting for all of us who share a passion for outdoor action sports," says Tanner. "We are committed to preserving the autonomy, creativity, and unique cultures of all the brands while we leverage our best-in-class operating platform to accelerate the growth of the brands globally. We are excited to become one family with the Billabong team, and look forward to working together arm-in-arm to achieve the promise that this combination offers."
The combined business will be highly diversified and will serve the global community of action sports enthusiasts with a full suite of innovative product lines and a range of community-building activities. In addition, Boardriders says the strength created by the combination will also allow for "deeper and more mutually beneficial" partnerships with customers and suppliers, and enable additional investment in the brands and in the action sports industry overall.
"Creating one integrated global platform will enable the combined company to enhance its investments in product innovation and quality, digital marketing, consumer engagement, and e-commerce, which ultimately will benefit our consumers and strengthen the company and industry," adds Agness. "With a larger and stronger platform, we see many exciting opportunities for our employees, customers, suppliers, and athletes. I am excited and honored to pass the leadership baton to Dave and to continue to partner with him to drive the next phase in the evolution of Boardriders."
Meanwhile, now that the agreement has been signed, Boardrides says it is "appropriate" to discuss a potential future role with Neil Fiske, current CEO of the Billabong Group. "We have high regard for Neil and what he has accomplished over the years. I personally have valued his keen strategic thinking and leadership. I very much hope that he will join us for the next leg of this journey and continue his contribution to these great brands," says Matt Wilson, chairman of Boardriders and managing director and co-portfolio manager at Oaktree.
The acquisition is subject to a number of customary closing conditions, including shareholder, court and regulatory approvals. The transaction is expected to close in the first half of 2018.
Quiksilver rebranded its business as Boardriders following its bankruptcy restructuring last year.