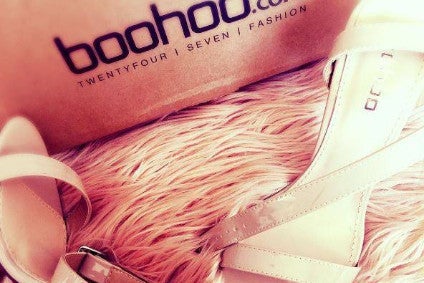 Boohoo has reported a double-digit rise in both earnings and sales for the full financial year and seems "well-positioned" to deal with the impacts of Covid-19 as the online fashion retailer cites improved year-on-year group sales growth during April.
In the 12 months to 29 February, pre-tax profit surged 54% to reach GBP92.2m (US$114.1m) from GBP59.9m in the prior year. Gross margin at 54% was down 70 basis points as the group invested in growing its brands.
Group revenue for the year rose 44% to GBP1.2bn from GBP856.9m, ahead of revised expectations of 40-42% the group provided in January.
Sales at the retailer's namesake brand rose 38% to GBP600.7m. At PrettyLittleThing, revenue reached GBP516.3m, up 38% on the prior year. Meanwhile, revenue at Nasty Gal surged 106% to GBP98.8m.
The group reported strong revenue growth across all geographies, with domestic sales up 39% and international up 51%. International revenue is now 45% of total, up from 43% in the previous year.
In the US, sales increased by 59%, while the rest of Europe saw a 64% jump and the rest of the world a 19% rise.
Boohoo noted the recently acquired brands, Karen Millen, Coast, and MissPap, are "complementary additions" to the group's scalable, multi-brand platform.
CEO John Lyttle said while recent events have understandably overshadowed what has been a great year for Boohoo, they have also highlighted its key strengths.
"Our business is founded on our ability to be agile and flexible and it is at times like this when these abilities are tested, and I am proud of how our colleagues and business partners from around the world have responded to the challenges posed by this pandemic. Although there is near-term uncertainty in the markets that we operate in, the group is underpinned by its incredibly strong balance sheet and is well-placed to leverage its scalable multi-brand platform and to continue to disrupt fashion markets around the world."
As a group, Boohoo said it is "standing alongside our suppliers, continuing to pay them promptly with industry-leading payment terms for all of their orders." It has also set up an emergency fund to help suppliers through what it called "this difficult period."
While the retailer said it is not appropriate to provide guidance for the financial year ending 28 February 2021 at this stage, it noted strong trading momentum seen at the end of the year continued into the first two weeks of FY21.
"Since the middle of March, trading has been mixed, as a result of the impact of the Covid-19 pandemic, initially with a marked decrease in year-on-year growth. Performance has improved in more recent weeks and we are now seeing improved year-on-year growth of group sales during April."
Emily Salter, retail analyst at GlobalData, a leading data and analytics company, notes: "Well positioned to deal with the impacts of Covid-19, the Boohoo group has reported another set of enviable results, with group revenue rising 44.1%, ahead of the revised group expectations of 40-42% it provided in January, indicating a stellar final quarter."
Shares in the company remained up by more than 6.8% this afternoon (22 April).
Click here for expert reaction to Boohoo's annual numbers.