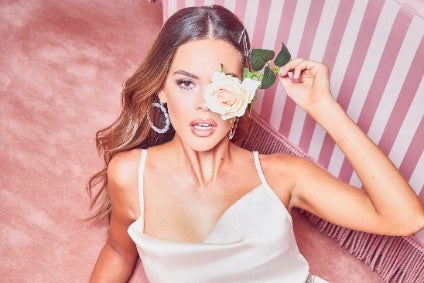 UK online fast fashion retailer Boohoo Group saw sales soar by more than 40% for the full year, surpassing its guidance for the period, despite the challenges posed by the Covid-19 pandemic.
Reporting its final results for the year ended 28 February today (5 May), Boohoo said revenue amounted to GBP1.74bn (US$2.42bn), up 41% from GBP1.23m a year earlier.
The group raised its revenue guidance in January on the back of strong peak trading performance. It was expecting group revenue growth for the financial year to be 36% to 38%, ahead of previous guidance of 28% to 32%.
It cited strong revenue growth across all geographies with the UK up 39% and international up 44%. International revenue is now 46% of total revenue, up from 45% last year.
Commenting on its domestic market, Boohoo said it increased the offering of activewear, loungewear and tops during the lockdown period, which was "highly successful."
In the US, sales increased by 65%, while the rest of Europe saw revenue growth of 30%, and the rest of the world a 16% rise.
Pre-tax profit for the period, meanwhile, was up 35% on the year before at GBP124.7m, while gross margin increased 20 basis points to 54.2% from 54% last time.
CEO John Lyttle said FY21 has been a year of significant investment for the group as it builds a platform for the future.
"Our established businesses have continued to grow across all territories as we gain market share with our compelling consumer proposition. We completed over GBP250mn of acquisitions in the period, which included Oasis, Warehouse, Debenhams, Dorothy Perkins, Burton and Wallis, as well as the purchase of the remaining minority interest in PrettyLittleThing in a transaction that to date has resulted in substantial earnings enhancement for the group's shareholders.
"Our newly acquired brands are being re-energised and made relevant for today's consumer across a broader market demographic. We are very excited about their potential and are already seeing the early rewards from their growth.
"We have also invested in improving the oversight and transparency of our supply chain and we are committed to embedding positive change through our ambitious UpFront sustainability strategy. As we build for the future, we continue to invest across our platform, people and technology to further cement our position as a leader in global fashion e-commerce."
Mahmud Kamani and Carol Kane, group co-founders, added: "Over the last year, the group has made great progress, delivering another set of record results despite the challenges posed by the Covid-19 pandemic. We have made significant progress on our Agenda for Change programme, with greater oversight of our supply chain, stronger governance and more transparency. We are embedding a new way of working and improving the sustainability of the group for the benefit of all stakeholders."
Looking ahead, revenue growth for the full year to February 2022 is expected to be around 25% at a group level, with newly acquired brands expected to deliver about five percentage points of this growth.
Boohoo noted trading in the first few weeks of the financial year has been encouraging, however, it said the economic outlook remains uncertain, adding it expects the benefits seen from reduced returns over the last twelve months to begin to unwind this year, whilst still experiencing significantly elevated levels of carriage and freight costs.
"Whilst the group did see some benefits to demand in the last financial year due to lockdowns around the world, traditional core categories such as dresses and going out saw significant declines. As markets re-open we are already seeing the early benefits of this and believe that the strengths of our test and repeat model and platform leave the group well-positioned to capitalise on any rebound in key geographies as markets exit lockdown globally," it said.
Unscathed by Covid-19
Emily Salter, senior retail analyst at data and analytics company GlobalData, notes the Boohoo Group has emerged from the pandemic with its sales performance untarnished but with its share price and ESG reputation the thorns in its side.
"Despite this, the group has a lot to boast about with total revenue growth only experiencing a slight deceleration versus FY2019/20 and an impressive increase in operating profit, proving the strength of its core brands and how well their propositions resonate with shoppers. UK sales growth remained strong, but as the Boohoo Group eyes greater international growth, the US was the star performer with sales rising by GBP171.5m to GBP435.1m as PrettyLittleThing's focus on the market, for instance by collaborating with American influencers, pays dividends.
"The Boohoo Group proved agile as it pivoted its focus to better performing product categories such as loungewear and nightwear during 2020. As social events resume in the UK and the US its brands will be able to capitalise on the demand among young shoppers for new clothing, while simultaneously being able to pivot spend to loungewear in countries still plagued by Covid-19 in mainland Europe. The return of demand in core categories such as dresses should prove beneficial for some of the group's smaller brands such as Oasis and Coast, so it must focus on rebuilding consumer awareness, such as by partnering with influencers."
Salter adds it will not be plain sailing ahead for the group though as it has its work cut out to make a success of its most recent acquisitions.
"While the rescued Arcadia brands offer the group a chance to broaden its demographic reach, the brands need revitalising and their identities carved out, instead of relying on constant discounting to drive sales. Additionally, the relaunch of Debenhams will require a lot of work as the retailer's reputation has suffered significantly in the past few years, and with a plethora of online marketplaces and retailers selling third-party brands, it will be hard to differentiate Debenhams' proposition and rebuild its brand image.
"Though consumer concern around sustainability does not seem to have made a mark on the group's impressive revenue growth, it has hit its share price hard so the Boohoo Group has introduced its Agenda for Change, setting out a timeline of actions such as publishing its UK supplier list. Additionally, the group is considering linking executive bonuses to its ESG performance, which would help to prove its commitment to its actions to investors, as well as providing a more tangible benefit of making changes beyond growing consumer awareness in ESG issues."