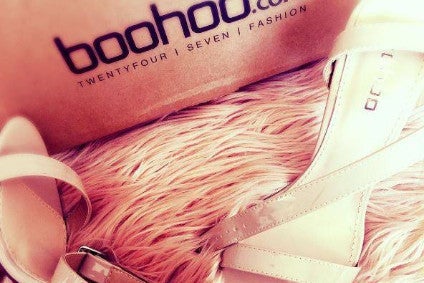 Online fashion retailer Boohoo has raised GBP197.7m (US$241.4m) in less than 24 hours through a share placing designed to help it fund future acquisitions amid the Covid-19 pandemic.
Announced late yesterday afternoon (14 May), the placing was conducted through an accelerated bookbuild, led by Zeus Capital.
"The group intends to use the net proceeds of the placing to take advantage of numerous opportunities that are likely to emerge in the global fashion industry over the coming months," Boohoo said.
While a number of retailers have raised funds in recent months including Asos and Joules, Boohoo is understood to be the first to explicitly link the additional funds for acquisitions.
The group said it continues to review a number of possible merger and acquisition opportunities, while noting it has demonstrated its platform is "capable" of integrating high-quality fashion brands.
"The recent acquisitions of the Karen Millen and Coast brands evidence its successful transition of brands to a pure online proposition on its scalable multi-brand platform; plugging them into its test and repeat model, and leveraging the group's infrastructure and insight into the fashion e-commerce market.
"Moreover, the group's earlier acquisitions of the NastyGal and MissPap brands demonstrate its ability to develop and grow brands successfully. The group sees significant opportunity to replicate this success globally."
Boohoo acquired MissPap in May of last year, followed by the purchase of the online businesses of the Karen Millen and Coast fashion brands in a GBP18.2m deal in August.
The group, which as at 29 February had audited net cash of GBP240.7m, noted trading into May "remains robust" but is cautious regarding the outlook on the back of Covid-19 together with the impact of lifting lock-down restrictions and the potential influence on competitive behaviour for the remainder of the year.
Last month, Boohoo reported a double-digit rise in both earnings and sales for the full financial year with pre-tax profit rising 54% to GBP92.2m for the 12 months to 29 February. Group revenue for the year rose 44% to GBP1.2bn from GBP856.9m, ahead of revised expectations of 40-42% the group provided in January.
What the analysts say
Commenting on Boohoo's share placing announcement yesterday, Sofie Willmott, lead analyst at GlobalData, noted the group is in a "much more fortunate position" than most other clothing and footwear specialists, significantly helped by its online-only selling model.
"The group has wisely shored up its balance sheet in preparation to choose its next acquisitions from the plethora of retailers that will fall to their knees over the coming months. The group must choose carefully as many of the brands that fail will have already been in trouble before the pandemic hit, with Covid-19 just accelerating their demise."
She added while Boohoo has previously bought smaller brands, the "war chest" it is developing hints that it has bigger ambitions to acquire retailers that are in distress and whose valuations represent a bargain.
"Like many of the recent deals we have seen, the group is unlikely to want to take on stores as part of the package and is likely to remain an online-only player.
"The group's current portfolio of brands is heavily focused on young fashion and going out ranges in particular. The shift in demand caused by Covid-19 towards more home-appropriate outfits such as loungewear, activewear and nightwear will have highlighted the group's reliance on social occasions to drive sales. In order to continue to grow rapidly, the group should focus on broadening the product range it covers through its future acquisitions to allow it to be nimble and adjust to changing consumer needs."
Meanwhile, Aneesha Sherman, analyst at AB Bernstein, noted: "This is a strategic, not desperate, move."
"Unlike the broader sector, we expect Boohoo to have a healthy 2020, with 14% sales growth and a 7.5% EBIT margin. With a cash position of GBP241m, there was no need for additional liquidity. The company evaluated both equity and debt options for this additional funding, but the founders had a strong preference for a clean balance sheet.
"Boohoo has a strong track record for opportunistic buying. The four acquisitions made to date are together worth an estimated GBP1.9bn today…Like for those brands, the company plans to "plug in" any newly acquired brands into its short-lead-time supply chain to minimise markdowns and improve profitability, for a quick turnaround of the distressed retailers."
Sherman expects women's and men's fashion and beauty to be key areas of interest for Boohoo, noting Bernstein does not expect the firm to show interest in home and children's.
Greg Lawless, analyst at Shore Capital, added there have been a number of retailers raising funds in recent months but Boohoo is the first to explicitly link the additional funds for acquisitions.
"We have highlighted before that the Boohoo investment case is centered on leveraging the operating platform across its six brands to generate operating efficiencies, which can then be reinvested to grow the newer brands in the Boohoo stable. The additional firepower from this placing to bolt on further brands gives the company opportunities to look at M&A given the fallout globally from the Covid-19 pandemic.
"With a bolstered balance sheet, following this capital fundraising and a cash generative business, this leaves the group in a strong position to weather the current storm but also come out with a stronger and perhaps enlarged business in the months ahead.
"It remains to be seen how its core focus on millennial customers will play out with many economic uncertainties, particularly around employment and consumer confidence in the UK and wider world, which may sharply impact consumer spending patterns."