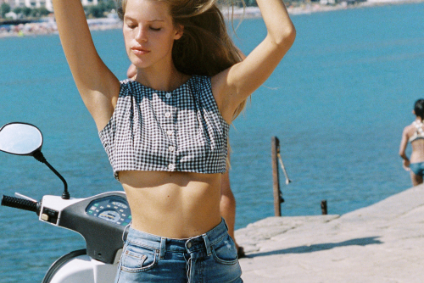 US denim brand Boyish Jeans has deployed a new blockchain-based transparency solution across its online store to communicate the sustainable supply chains behind its products.
Visitors on Boyish's website can now click on the Retraced plugin and learn more about the product's journey, the production processes, and the environmental implications.
The solution, developed by German start-up Retraced GmbH, collects supply chain information from the client and makes it available for the end-consumer – connecting shoppers with the makers of fashion and offering insights into the production process and raw materials.
Boyish joined the Retraced transparency platform in March and has worked to onboard and connect its selected network of sustainable supply chain partners, such as Bossa Mills, Strom Denim, and Lenzing AG. This included onboarding the respective suppliers into the system, collecting information on their ethical production methods and standards, and verifying their certifications and claims.
As a result, the brand was able to obtain eight badges with regards to transparency, fairness, and environmental sustainability.
"As a sustainable brand who is already completely transparent, we realised that we could be even more transparent about our supply chain specifically," explains Jordan Nodarse, founder and creative director of Boyish.
"Incorporating Retraced's technology into our website will provide those key details and will arm our customers with even more information about the purchase decision they have made. We hope more brands join Retraced in this effort to shed light on the impact of fashion."
The LA-based brand is working to have its entire supply chain mapped and communicated by the end of 2020.
Speaking on a webinar last week as part of Kingpins Transformers Foundation's Catalysts summit, Nodarse said: "I realised the most important thing was being able to map my supply chain to be able to show my consumers. That's something we are working on now. I think it is going to be great. It's a one-stop-shop that shows where things are coming from, what it all means and how I can understand it better."