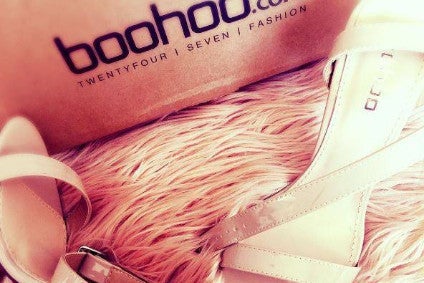 A number of major online fashion retailers, including Next and ASOS, have dropped the Boohoo Group's brands from their websites over claims of exploitation and unsafe conditions at one of its UK supplier factories.
The fast fashion retailer, which this morning (8 July) said it was launching an immediate independent review of its UK supply chain, earlier this week warned it will axe relationships with factories that breach its supplier code of conduct after media reports surfaced that one of its Leicester-based supplier factories is paying staff just GBP3.50 (US$4.38) an hour.
According to a report published by The Sunday Times newspaper, the Jaswal Fashions factory in Leicester, UK, was operating during a local coronavirus lockdown in the city last week, without additional hygiene or social distancing measures in place.
The publication also claimed an undercover reporter, who spent two days working in a factory displaying the 'Jaswal Fashions' sign, was "told to expect GBP3.50 an hour" – well below the UK National Minimum Wage of GBP8.72.
As a result of the claims, Next, Asos, Zalando, Very.co.uk, and Amazon have all dropped the Boohoo brands, which include Nasty Gal and Pretty Little Thing, from their websites.
In a stock exchange announcement, Boohoo says it is "shocked and appalled" by the allegations and is committed to "doing everything in our power to rebuild the reputation of the textile manufacturing industry in Leicester". It is launching an independent review, led by Alison Levitt QC, and has committed to investing an incremental GBP10m (US$12.5m) to eradicate supply chain malpractice.
The news, however, was not enough to halt a decline in Boohoo's share price, which slumped 22% in morning trading.
In its announcement, the fashion retailer said it was accelerating its independent third-party supply chain review with ethical audit and compliance specialists, Verisio and Bureau Veritas.
"We want to ensure that the actions of a few do not continue to undermine the excellent work of many suppliers in the area, who succeed in providing good jobs and good working conditions," it said, adding it would welcome the opportunity to work with the Home Secretary and the local authority on any future investigations to help eliminate any instances of labour malpractice in Leicester.
"We wish to reiterate how seriously we are taking these matters and we will not hesitate to terminate any relationships where non-compliance with our Code of Conduct is found," says CEO John Lyttle. "Our commitment to an incremental GBP10m of investment demonstrates our resolve to enforce the highest standards of ethics, compliance, and transparency for the benefit of all garment workers."
Boohoo says its own findings show "inaccuracies" with the Sunday Times report. "The garments featured were not actually manufactured in Leicester, but in Morocco. Post-production, the garments were shipped back to the UK by the supplier to be repackaged into compliant boxes for delivery to the group's international distribution centre in Burnley. This was the process that was filmed at premises formerly operated by Jaswal Fashions Limited."
The retailer says Jaswal Fashions Limited is not, and has never been, a supplier to Boohoo, and does not operate in the unit stated.
"Investigations over the last 72 hours have highlighted that the order from Nasty Gal was placed with Revolution Clothing Co Limited, who then instructed Morefray Limited to manufacture in Morocco and repackage the garments on their behalf in Leicester.
"Our investigation to date has not found evidence of suppliers paying workers GBP3.50 per hour. However, we have found other evidence of non-compliance with our Code of Conduct and the group has taken the decision to immediately terminate its relationship with both suppliers."
Boohoo says the review of its supply chain will focus on supplier compliance with minimum wage regulations, compliance with Covid-19 regulations, working hours and record-keeping, and right to work documentation and contracts of employment.
The company will publish an initial update on the review in September alongside its first-half results.
The city of Leicester has found itself in the spotlight in recent years, primarily because it is the base for nearly 1,480 garment and textile factories – the highest concentration in the UK – and for reports of paying workers below the minimum wage.
UK health secretary Matt Hancock told Sky News at the weekend, the government was "very worried" about the number of infections in the city and warned it has the power to shut down businesses if they do not follow coronavirus guidelines.
Brand measures
Asos declined to comment on its decision to pull Boohoo's brands from its website, while a spokesperson for Zalando said it made the decision to delist all products by Boohoo Group and subsidiaries and pause all new business with the company effective 7 July.
"During the coronavirus crisis, the health and safety of our employees has remained of utmost importance to Zalando. We adjusted to this "new normal" with strict preventative measures to keep all employees safe while staying open for business. We expect our partners to apply similar fundamental priorities and will distance ourselves from those who don't. Our Code of Conduct sets the standards that our business partners and their subcontractors must agree to, such as minimum wage, freedom of association and the absence of forced labor, child labor and discrimination. Our code is based upon the internationally recognized principles of the Universal Declaration of Human Rights (UDHR) and the Conventions of the International Labour Organization (ILO).
"Moreover, as part of our sustainability strategy 'do.MORE', it is our goal to continuously increase ethical standards and only work with partners who align with them by 2023. We, therefore, have made assessments around ethical and sustainable parameters for our brand partners mandatory. In line with this, Zalando will define specific actions to address endemic human rights issues identified with Boohoo and in their supply chain. Only once all corrective actions have been satisfactorily addressed by Boohoo, can a conversation be revisited to discuss the commercial relationship between Zalando and the Boohoo group moving forward."
A statement from Amazon, meanwhile, read: "Selling partners are required to follow all applicable laws, regulations, and Amazon policies when selling in our store. We will be suspending the sale of the brands in question."
A spokesperson for Next said it welcomed the statement made by Boohoo Group this morning and is pleased they are taking the issue so seriously.
"Next looks forward to seeing the results of the investigation Boohoo has announced. In the meantime, Next does not intend to resume selling Boohoo labels until the investigation is complete and any necessary remedial action has been taken."
Very.co.uk did not respond to just-style's request for comment at the time of going to press.