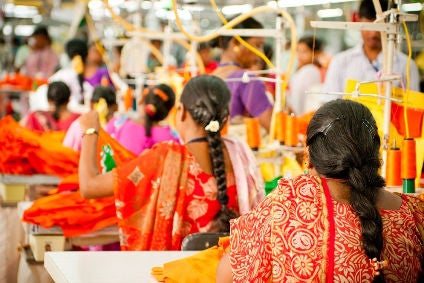 Four major brands have found themselves caught in the crossfire after allegations of worker abuse surfaced at garment supplier factories in India.
An investigation by the BBC claims workers at some factories in India that supply clothing to Marks & Spencer, Tesco, Sainsbury's and Ralph Lauren are being forced to work overtime, suffer verbal abuse, and are made to work in poor conditions.
just-style understands the allegations are related to two factories, one that supplies Ralph Lauren, and another that makes products for the supermarkets.
Workers who spoke to the BBC at the factory supplying Ralph Lauren said managers did not give them notice to work additional hours and would instead threaten to sack them if they were unable to stay on. A worker at a factory supplying the UK retailers, meanwhile, told the BBC that staff do not get water or toilet breaks.
Marks & Spencer, Tesco and Sainsbury's are all members of the Ethical Trading Initiative (ETI).
In an email to just-style, a spokesperson for M&S said: "We take these allegations extremely seriously and undertook an immediate unannounced audit. Whilst there was absolutely no evidence workers were denied access to basic facilities, we identified overtime working practices that are not acceptable.
"As a responsible retailer, we have a duty of care to protect the livelihoods of the people that work in our supply chain. As a result, we have worked collaboratively with other brands using the site to put in place a robust remediation plan and will be undertaking regular unannounced audits to ensure its implementation. The site supplies less than 1% of our homeware range and we will keep our position under review."
A spokesperson for Ralph Lauren, meanwhile, said the company does not tolerate any abuse of workers' rights and is deeply troubled by these allegations.
"We are auditing the factory and will take appropriate actions to ensure workers are treated and compensated fairly. We require our suppliers to meet strict operating standards to ensure a safe, healthy, and ethical workplace, and we conduct regular, unannounced third-party audits that include worker interviews at factories that supply our products to ensure these standards are met.
"We have also been implementing a wage management strategy to address fair compensation at the factories with whom we contract and are focused on building human resource systems with suppliers that will support the opportunity to advance compensation for workers."
A spokesperson for Sainsbury's confirmed the factory in question produced textiles, specifically tea towels for the group and said Sainsbury's was "shocked to receive such disturbing reports" and launched immediate investigations at the factory.
"We are deeply concerned by the findings of our initial investigation and are insisting on a number of actions the supplier must take in order for us to continue to work with them. This includes immediate actions and ongoing commitments the supplier must make while we continue to closely monitor the site.
"We are also in close contact with Action Aid and intend to work in partnership on a full remediation plan.
Our dedicated Ethical Sourcing team has been in close contact with our suppliers across the globe throughout the pandemic to understand the challenges they are facing and we have introduced a range of additional measures to support them as a result of these conversations. We are also in the process of piloting a scheme which will allow us to hear directly from workers on the front line.
Tesco did not return just-style's requests for comment.