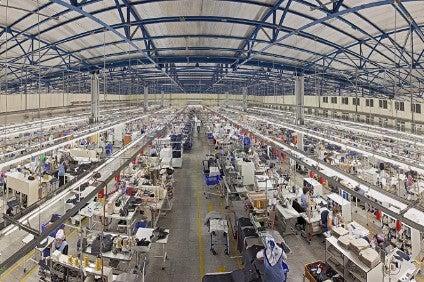 The president of Turkish Clothing Manufacturers' Association TGSD (Türkiye Giyim Sanayicileri Dernegi) has complained about the treatment his members have experienced at the hands of international brands and retailers during the Covid-19 crisis.
By cancelling current and future orders, extending payment terms and demanding discounts, brands have devastated the Turkish garment manufacturing sector, with 80% of factories stopping production, and leaving them with an estimated US$3bn in inventory on hold, he says.
"Unfortunately we were caught at beginning of the season, so high inventory, which are their products, with their own labels, and fabrics and accessories that had been nominated," Hadi Karasu, TGSD president, told just-style.
"But most of them said, freeze production, go home, and we will let you know what will happen. They have not informed us yet, from the beginning of March to the end of April, about their decision on inventory."
Just two major retailers are continuing to buy: Hennes & Mauritz (H&M) – Karasu says larger manufacturers have confirmed that the Swedish retail giant will continue to buy garments once produced – and Spain's Inditex.
A further complaint is that extended payment terms have been imposed on manufacturers, going from 30 days to 90 days, and up to 180 days in certain cases.
"On top of the delays, some European buyers unexpectedly sent us letters saying they wanted discounts to help them, of 5% to even 50% from the receivables, which was expected to be paid soon. We were shocked," says Karasu.
"They've left manufacturers in the middle, which is surprising. The brands have four to five, even a ten-times markup [on a garment], whereas manufacturers have a one-digit growth margin."
Future orders have also been cancelled. "We don't know what will happen when we go back to work at, say, the end of May. We would be able to finish the semi-processed products, which are in the pipeline now, but buyers told us there's no home for the garments. They said, offer us a 50% discount and we may be interested in buying. This is the situation right now," Karasu explains.
Buyers are informing manufacturers that contracts state that orders can be cancelled at any time, he adds, although such an approach is irresponsible: "If these brands don't start paying manufacturers, they are not able to use the word sustainable, as the number one responsibility is to sustain the whole supply chain.
"My main message to the brands who have cancelled is that they don't have the right to do so. They have to take care of these goods, as it is their name and they are the owner."
The TGSD issued a statement in the International Textile Manufacturers Federation's (ITMF) April newsletter calling on global brands to act in unity with their manufacturing partners, following "hundreds of messages" to the TGSD Coronavirus helpdesk over "alarming actions taken by global brands and retailers."
Meanwhile, brands need to decide what manufacturers should do with completed branded garments, says Karasu.
"Will they give permission to manufacturers to sell products in the marketplace with their labels and brands, as that is not allowed under contracts? They have to decide whether to take ownership of brands and products or not."
The TGSD has proposed the development of a joint roadmap between buyers and manufacturers. "If buyers continue [their existing behaviour] they may damage this supply chain irrevocably, which is dangerous.
"I think the situation will be resolved, but my concern is that if they do it slowly, and expect a kind of natural selection of the survival of the fittest among manufacturers, it won't work."