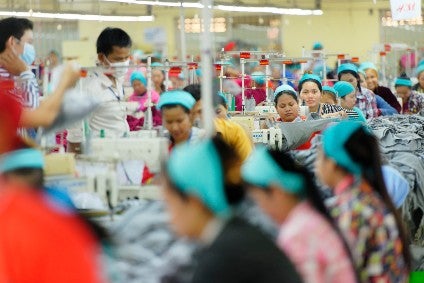 A one-off payment from fashion brands and retailers could be a way of mitigating the impact of the ongoing Covid-19 crisis on supply chain workers.
The suggestion from the Asia Floor Wage Alliance, which works to improve conditions in global garment production networks, calls for a contribution that is 2% of their past annual sourcing budget.
This, it says in a new report 'The Emperor Has No Clothes: Garment supply chains in the time of pandemic,' would help make up for the loss of income due to order cancellations and factory closures linked with the coronavirus pandemic.
The short-term, one-time Supply-chain Relief Contribution (SRC) would be passed to suppliers and be payable directly to each worker.
"If brands honour this contribution for their supplier factories, each worker would get a modest but important contribution to help them mitigate the most extreme effects of the Covid-19 crisis."
In the medium to long term, the Asian labour and social alliance says, brands should step forward and commit to a fair price or a premium that ensures payment of a living wage and social security, and safeguard freedom of association.
The group says such a move is necessary because: "Global garment supply chains are organised in an opaque manner, because of which the brands that appropriate most of the profit are not held accountable or responsible for purchasing practices that perpetuate poverty-level wages."
The AFWA has been monitoring the impact of Covid-19 on workers in garment-producing countries such as Cambodia, India, Indonesia, Myanmar, Pakistan and Sri Lanka.
Its first issue of 'Emperor Has No Clothes' mapped the initial impacts of the pandemic on workers in global garment supply chains, highlighting the varied state responses along with concerns around wage payment, lack of social security and access to healthcare.
The second follow-up report lays emphasis on the issues around wage payment, support mechanisms and layoffs of garment workers. It also presents the discriminatory practices that account for the immediate impact of the pandemic on garment workers, such as social inequalities related to age, gender, religion, nature of employment, and wage levels.
The pandemic has exposed fault-lines in global garment supply chains, as well as countries' inability to respond and the collateral effects such as ensuring access to decent healthcare and food security.