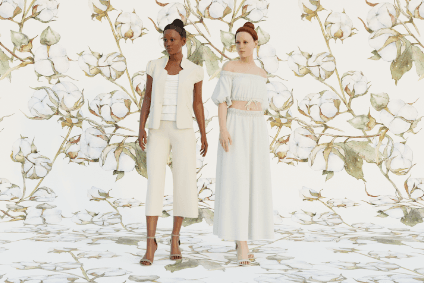 3D design and prototyping software specialist Browzwear and non-profit Cotton Incorporated have joined forces to create an eco-conscious digital fabric collection.
The all-natural digital collection will consist of over 20 minimally processed cotton fabrics ready to use in VStitcher's asset library. In addition, Cotton Incorporated's CottonWorks platform will offer users an exclusive collection of over 100 downloadable, Browzwear-compatible, digital cotton fabric files for 3D garment development. By being able to easily access natural, minimally processed fabric alternatives within VStitcher, designers can create endless styles, while reducing textile waste throughout the process and ultimately market a more eco-conscious product.
Utilising sustainable solutions from responsible farming practices to minimal processing in manufacturing to Browzwear's VStitcher 3D design programme, cotton can go from fibre to product in a way designers and consumers can feel good about, the firm says. In textile manufacturing, in particular, there are several technologies such as laser etching, cationic cotton dyeing, and enzymatic scouring that can help product developers and manufacturers reduce water, energy, and chemicals during textile processing. Using 3D design programmes like Browzwear's VStitcher for garment prototyping continues the quest toward sustainability throughout the entire product development process by reducing sample waste and lead time, it says.
"This collaboration is about transforming the product development process towards sustainability, and ensuring that we provide more ecological digital options for designers, at every stage between concept and design," says Sharon Lim, CEO of Browzwear. "The demand for retailers and brands to lower their carbon footprint and conduct greener and more sustainable practices is growing amongst consumers, and we're proud to be a part of this initiative that will enable this change."
Mark Messura, senior vice president of global supply chain marketing, Cotton Incorporated, adds: "Innovation is at the heart of what we do with cotton. It starts at the farm level where cotton is responsibly produced and continues in our work supporting design and manufacturing."