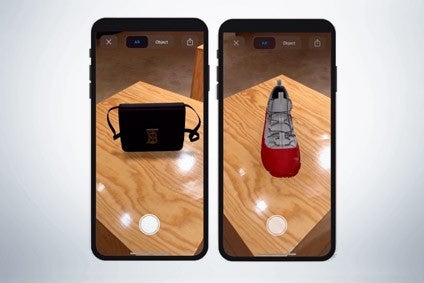 British fashion brand Burberry has launched a new Augmented Reality (AR) shopping tool through Google Search technology to help online consumers gain a better understanding of the product before purchasing and simulate the in-store experience.
When searching for Burberry items using Google Search on their phone, consumers can see an AR version of the product at scale against other real-life objects.
"The inspiration phase of the decision to purchase is becoming increasingly important for luxury consumers. Burberry is continuously experimenting with digital innovation such as AR to create a more exciting experience and enhance personalised luxury commerce, blending the technology with other activations around the world," the brand says.
To use this latest AR tool, users can search for the Burberry Black TB bag or Arthur Check Sneaker using Google Search on their mobile device. It is currently available in the UK and the US, with plans for global rollout for a variety of products over the coming months.
Elsewhere, UK online fashion retailer Asos has also recently harnessed AR to help drive purchasing decisions. Last month, the company became the first retailer in Europe to trial a new AR tool that offers consumers a simulated view of a garment in different sizes and on different body types.