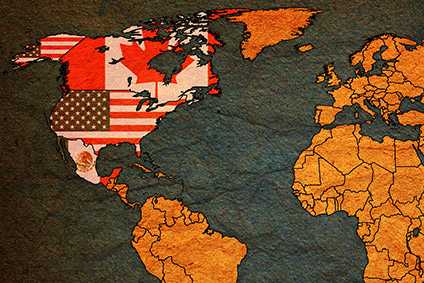 Trade associations representing the US apparel and footwear industry are appealing a clause in the new US-Mexico-Canada (USMCA) trade agreement that proposes lowering the duty-free import threshold, arguing it would hurt the sector.
The US raised its de minimis amount from US$200 to $800 in 2016 to enable more low-value items to be imported into the US on a duty-free basis.
A letter to US trade representative Robert Lighthizer – whose signatories include the US Fashion Industry Association and the National Retail Federation – says the increase has helped facilitate faster border clearance for imports of low-value goods that small businesses use for assembly and value-added manufacturing operations, thus boosting their bottom lines.
It also benefits high-technology component manufacturers and apparel, textile and other retailers that import samples, as well as consumers who gain faster, less-expensive access to a wider range of goods.
But in the new USMCA, Canada agreed to raise its de minimis level from C$20 to C$40 for taxes and provide for duty-free shipments up to C$150. Mexico pledged to continue to provide US$50 tax-free de minimis and provide duty-free shipments up to the equivalent level of US$117.
A footnote, however, in the customs and trade facilitation chapter of the agreement, states that if Canada or Mexico maintains a lower de minimis value than the US, the US may lower its corresponding value for shipments from that country to "a reciprocal amount."
"Lowering the US de minimis level to a "reciprocal amount" would harm American businesses, workers and consumers, reduce incentives to improve US e-commerce infrastructure and undermine US global leadership in e-commerce policy," reads the letter.
"[It] would lessen incentives for investment in US e-commerce infrastructure that benefits American exporters, e-commerce companies and consumers. A lower de minimis level would also impede the ability of the United States to lead globally as it seeks commitments on new trade facilitation measures by other countries," it adds.
The letter requests the removal of the footnote.
In an email to just-style yesterday (12 November), American Apparel & Footwear Association executive vice president, Steve Lamar, said AAFA agreed with "the underlying sentiment of the letter," even though it was not one of the signatories.
"We are working to make sure the USMCA implementing bill does not enable the US to unilaterally lower its de minimis threshold. The $800 level is very popular in Congress having been raised a few years ago in a bipartisan bicameral manner.
"AAFA also supports the effort to raise the Mexico and Canada levels. However, any efforts by the US to lower its de minimis unilaterally would have little impact in persuading our USMCA partners to raise theirs."