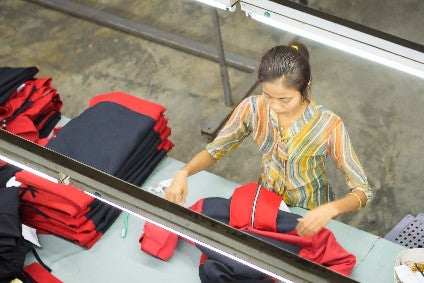 Workers at a Thai factory supplying clothing to Tesco, Starbucks, Disney, and NBC Universal are still owed US$110,000 in compensation for alleged mistreatment they experienced when producing garments.
According to worker rights group the Clean Clothes Campaign (CCC), 26 Burmese garment workers from the Kanlayanee factory, which is based in the Mae Sot region of Thailand, returned to court earlier this month in their third attempt to obtain justice for the abuse and exploitation they suffered while making products for four of the biggest global companies: Disney, NBC Universal, Starbucks, and Tesco.
CCC says the workers were collectively awarded TBH3.46m (US$110,000) in compensation by the courts over a year ago but have yet to receive funds.
Factory owner, Kanlayanee Ruengrit, is said to have offered about $33,000, just 30% of the total amount owed to the workers, as the maximum that she could pay.
Workers accepted the lower amount, "having few other options," CCC says, adding Tesco has paid $24,000, while Starbucks has committed to paying approximately $20,000 but is yet to pay.
Disney and NBC Universal, however, are yet to agree to pay and fill the gap, according to CCC.
"Conditions in the Kanlayanee factory were harsh, and workers earned well below the minimum wage of TBH310 ($10.15), were not paid legally-required overtime or holiday pay, worked seven days per week in sweltering heat with no fans and few windows, in a factory where the toilets were too dirty to use. The exploitative conditions found in the Kanlanayee factory are worryingly common in the Mae Sot region of Thailand, near the border with Myanmar. Mae Sot is a hub for migrant workers, all 26 of the Kanlayanee workers are Burmese migrants, and a regulatory black hole where exploitation is rife and many factories operate without proper inspections. The unusual element in this case is that all four brands involved are global household names," CCC says.
The campaign group welcomes Tesco's contribution and Starbucks commitment to pay and calls on Disney and NBC Universal to follow their lead.
"This case exemplifies the urgent need for industry reform so that companies can be held legally accountable for their due diligence failures," it says. "Workers should not be the ones who pay the price. These brands must pay up now to ensure these workers receive the full amount owed to them," says Ilona Kelly, urgent appeals coordinator for the Clean Clothes Campaign.
In an email to just-style, a spokesperson for Starbucks said: "Starbucks has a zero-tolerance policy for any illegal practices in its supply chain and requires full compliance with our Supplier Code of Conduct among our business partners. After a thorough investigation, our licensed business partner in Thailand has voluntarily contributed TBH600,000 (approximately US$20,000) to support the workers who were underpaid by the Kalayanee factory in Mae Sot, Thailand. We are working with local NGOs to ensure that our contribution will be properly distributed among the workers."
NBC Universal and Disney did not respond to just-style's request for comment.