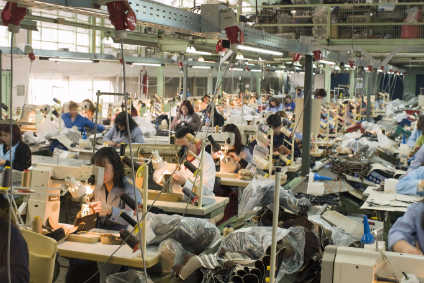 A UK body that campaigns for fairness in trade is urging retailers not to cancel orders or require factories to delay payment terms, decisions it says, will have "devastating consequences for textile workers".
In its report "Bailing out the Supply Chain", Traidcraft Exchange, which works in conjunction with Traidcraft in aiming to promote justice and fairness in trade on behalf of people in some of the world's poorest countries, explores the impact of Covid-19 on supply chain workers.
It calls on retailers to honour their contracts to suppliers and work with them to ensure those that do not benefit from social protection coverage have the means to survive the crisis.
The report highlights workers are typically on low wages with few savings. Production countries have limited-to-non-existent social security systems to provide unemployment benefits, employment injury insurance, and healthcare. Factories are not always obliged to contribute to social security systems. Brands and retailers in Europe and North America, it adds, "have designed a sector with low prices and flexibility in mind."
"Covid-19 brought deep disruption to this model, driving the garment industry into crisis."
Many global brands it says have made the following demand: cancelling orders for goods workers had made; cancelling orders that were in the process of being made; delaying payment terms; requiring discounts back to retailers and brands.
"These demands have devastating consequences for textile workers worldwide. Most suppliers suddenly lost contracts that were in the process without any form of compensation. 72% of surveyed suppliers said they were unable to provide their workers with some income when furloughed, and 80% said they were unable to provide severance pay when order cancellations resulted in worker dismissals, with over 90% reporting no support from brands to cover these costs. Over 95% of suppliers indicated that brands and retailers refused to contribute to the cost of partial wages for workers who were suspended or severance payments for those dismissed.
"These developments underscore the massive power imbalances between western brands and workers in the global garment industry. Companies can set the terms of trade unilaterally with grave consequences for workers and suppliers."
The report says "as an absolute minimum" brands and retailers need to honour existing contracts they have already signed and warns them to avoid misusing the "force majeure" clause in contracts to evade their contractual responsibilities.
In addition, brands and retailers which benefit from EU consumer markets need to pay their suppliers promptly (60 days usually). The current situation makes prompt payment even more urgent.
"Brands can reasonably assume any cancellation of orders or delay in payment terms will directly negatively impact thousands, if not millions, of the workers involved in making their products. Hence, brands should consider the impact that such decisions like cancelling or suspending orders have on workers' rights including the immediate risk of unemployment."
Brands should, the report recommends, compensate workers made temporarily redundant owing to lack of orders and for those likely to be working for factories that do not have insurances in place to protect against unemployment, adding special attention should be given to migrant and home-based workers. Brands must also ensure safe working conditions where production continues.
Longer-term, it suggests a system should be put in place to support fairer commercial practices in sourcing relationships. The system should ban or limit certain unfair commercial and trade practices such as late payments, late order changes, post-hoc discounts, and unilateral cancellations.
And host countries should legislate to obligate companies to respect human rights in their operations and supply chains. The laws should require companies to conduct due diligence on their human rights and environmental risks and take appropriate steps to mitigate these risks. This would extend to supporting workers including those in supply chains whose rights are jeoperdised as a result of business decisions.
A number of high street retailers have cancelled orders with suppliers and are said to be delaying payments as stores around the world are forced to close as part of country-wide lockdown measures to try to stem the coronavirus outbreak.
New Look recently said it was halting supplier payments and new orders. A retail supplier engagement specialist, Solutions for Retail Brands (S4RB), warned the move could cause "irreparable damage to New Look's supply chain," and that its supplier relationships will take years to repair – if at all.
Prior to this, Primark was widely criticised for cancelling all orders with its suppliers after closing its stores on 22 March, but hasnow set up a fund to cover the wages component of orders that it cancelled in Bangladesh, Cambodia, India, Myanmar, Pakistan, Sri Lanka, and Vietnam.
Meanwhile, Swedish retailer H&M has said it will pay and take delivery of goods already manufactured by its suppliers, as well as those in production, while Spanish fashion giant Inditex, which owns the Zara fashion chain, is to pay its Spanish workers their full salaries until 15 April – including those in its domestic factories.
Garment manufacturer representatives in Cambodia and Bangladesh have appealed to buyers to honour their contracts.
Fiona Gooch, senior private sector policy adviser at Traidcraft Exchange, says: "Traidcraft Exchange's paper contributes ideas as to how a bailout for the garment sector could operate, with the reminder that in the immediate term brands and retailers should honour their contracts, and in the medium term any bailout must be overseen by workers organisations to ensure that money does actually reach workers, and the longer-term social security systems need to be established, as well as addressing the unfair trading practices of the international brands and retailers which has put the garment sector into such a precarious position in the first place."