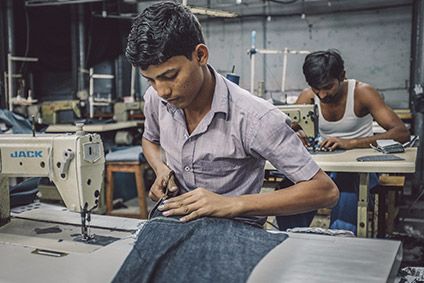 Global NGO The Circle is calling on the European Union (EU) to introduce legislation to ensure garment workers in global supply chains are paid a living wage.
Founded by singer, songwriter and human activist Annie Lennox, The Circle launched its proposal today (13 April), entitled 'Fashion Focus – A proposal for new EU Legislation on a Living Wage'. It contains what is said to be the first ever proposal for EU legislation specifically aimed at achieving a living wage and "an end to the injustice of poverty wages suffered by millions of largely female garment workers".
As the fashion industry emerges from the global pandemic, Jessica Simor QC, a barrister at Matrix chambers, expert on fair pay and human rights in fashion, and author of the report, argues that we must end the injustice of millions of garment workers, 80% of whom are women, earning some of the lowest wages in the world.
"Minimum wages in garment producing countries are way below that necessary to provide for a basic decent life. This in turn makes it difficult for garment and footwear retailers, when contracting factories within those states, to ensure that the workers who produce their goods are paid a living wage. This is proved by the fact that nearly all due diligence statements from large retailers admit that only the statutory minimum wage is paid.
"Legislation is needed to address structural deficiencies in the market, which cannot be met merely by due diligence statements or voluntary agreements," she continues. "If we are serious about protecting human rights and promoting sustainable development, then workers cannot continue to be paid wages that do nothing more than sustain poverty. Renumeration must be sufficient to ensure a basic decent life and allow for the prospect of change."
In the largest garment producing countries, minimum wage levels are less than 50% of that necessary to provide for a basic decent life, according to The Circle. A weak regulatory environment in garment producing countries means that even the limited relevant labour laws and regulations often remain unenforced.
Fashion retailers operate in a highly competitive market and can negotiate aggressively with supplier factories on price, which consequently drives down workers' wages, it adds. The highly mobile nature of fashion retailers' businesses means they can move quickly to source their product from a lower wage economy, increasing their negotiating leverage with factory owners.
"This race to the bottom creates a disincentive for states to increase their statutory minimum wage levels, for fear of losing contracts to suppliers in lower minimum wage economies," the report explains.
"The weak regulatory environment means that when fashion retailers wish to ensure that their products are made by individuals paid a living wage, it is difficult for them to ensure this within a factory that makes products for other companies and guarantees only the minimum wage."
Despite companies signing up to voluntary wage commitments, a report from The Clean Clothes Campaign in 2019 revealed that no brand could show that a living wage was being paid to workers in developing countries.
Covid-19 has seen global fashion brands cancelling large contracts putting millions of vulnerable workers in the garment industry out of work, with no savings to fall back on.
Livia Firth, co-founder of The Circle and founder of Eco-Age, says: "I've been exploring supply chains around the world, learning from and advocating for the often unseen people behind the clothes we wear for years. Today, the ongoing struggle for workers' rights and wages has become more urgent than ever.
"As the Covid-19 pandemic has made its way around the world, millions of garment workers have lost their jobs without warning. Stories of this enormous toll have made headlines and what is starting to emerge more and more is the even larger system of greed and exploitation that has trapped millions of the world's poorest workers – mostly women – in cycles of unnecessary suffering and poverty, while they produce products for an industry that measures profit in the trillions. I am so fed up with the lies, broken promises and half measures that have been going on for so long and this new legislation proposal is not only ground-breaking but also the only way forward." To address this, the report contains a proposal for the EU to build fairness into contracts and improve the lives of millions of garment workers:
It suggests the European Commission in cooperation with the International Labour Organization (ILO) apply a formula to assess the point at which wages in the garment producing countries risk being too low to sustain a basic decent life – the "at risk wage point".
At this point the country will be listed in an Annex and given a three-year transition period to enable a gradual increase in statutory minimum wages. Once the wages are above the at-risk point, the country is removed from the Annex.
In addition, should any garment producing country not guarantee the right to collective bargaining, it will be listed on the Annex.
This will incentivise companies to produce their garments and footwear in countries paying above the statutory minimum wage, instigating a race to the top instead of the current race to the bottom.
"The global pandemic has seen an increased appetite for change, and we are heartened to see the initiatives currently progressing at the EU that indicate considerable political will to regulate for both environmental and social abuses in global supply chains," says Raakhi Shah, CEO The Circle. "As the EU plans its post-pandemic recovery and develops its due diligence proposals, we hope that this proposal will influence the approach, and lead to a universal commitment to reverse the current race to the bottom regarding wages in the garment industry's global supply chains. In the meantime, we are committed to raising funds to provide emergency support, as well as raising awareness of the terrible working conditions women across the world face. We must all play are part in creating a fairer fashion world."
Click here to read the full report.