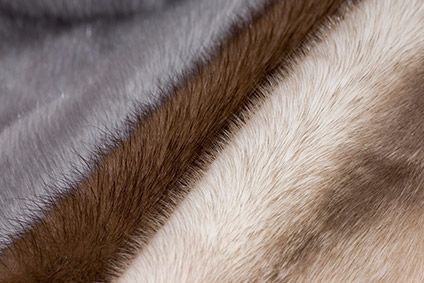 An animal rights group is calling for urgency on the ban of fur farms after mink on two Dutch farms were confirmed to have coronavirus (Covid-19).
In a statement at the weekend, The Dutch Agricultural Ministry said two mink farms in Gemert-Bakel and Laarbeek in the Netherlands have detected contaminations of Covid-19 in different minks. The animals showed various symptoms including respiratory problems, and investigations have been launched to determine the source of the infections.
Animal protection charity Humane Society International, which campaigns for a global end to the fur trade, warns that factory farming tens of millions of mink, fox, raccoon dogs, chinchillas and rabbits in "squalid conditions" in countries around the world presents an unnecessary and unacceptable risk for both human and animal health.
The Ministry said it believes the infected mink pose a "negligible" risk to human health, the farms are banned from moving the minks or their manure, people are advised not to go within 400 metres of the farms, and that air and soil tests are planned.
The creation of new mink farms was banned in the Netherlands in 2013, and existing mink fur farms have until 2024 to close.
Claire Bass, executive director of Humane Society International/UK, which leads the 'FurFreeBritain' campaign for a UK fur sales ban, says: "Fur factory farms are breeding grounds for infectious diseases, confining thousands of wild animals in unsanitary, crowded and stressful conditions, with precious little veterinary care.
"In addition to the animal suffering that's an unavoidable fact of the fur trade, the potential for zoonotic disease spread is another compelling reason for all fashion companies to go fur-free, and for governments to take action to shut down this dirty trade. One of the lessons we must learn from Covid-19 is that we cannot carry on pushing animals to the limit of their endurance without serious consequences for both animal and human health."
The Society is urging the Netherlands and other countries in the process of phasing out fur farming to speed up their industry closures, and countries yet to commit to bans, including China and Finland, to do so now.
It cites a 2016 report released by the Chinese Academy of Engineering that claims 75% of China's wildlife trade is dominated by fur production. Animals who are farmed for their fur, such as raccoon dogs, foxes and mink, are common sights at wildlife wet markets in China which are the current focus of Covid-19 attention.
Fur farming has been banned across the UK since 2003 and has been prohibited and/or is in the process of being phased-out in the following EU member states: Austria, Czech Republic, Croatia, Slovenia, the Netherlands, Luxembourg, Slovakia, and Belgium. Ireland and Bulgaria are also presently considering bans on fur farming. Fur farming, however, continues in other member states with Denmark, Finland and Poland being the biggest producers.
In 2019, California became the first US state to ban fur sales following similar bans in cities including Los Angeles, San Francisco, Berkeley, and West Hollywood. In 2020, Hawaii and Rhode Island have introduced fur sales ban proposals, as have cities in Minnesota and Massachusetts. HSI/UK's 'FurFreeBritain' campaign is calling for the UK to become the first country in the world to ban fur sales.
An increasing number of fashion designers and retailers are dropping fur. In the last few years Prada, Gucci, Armani, Versace, Michael Kors, Jimmy Choo, DKNY, Burberry, Chanel, Macy's, Bloomingdale's and other high-profile brands have announced fur-free policies. In addition, online fashion retail platforms Net-A-Porter and Farfetch have introduced no-fur policies.