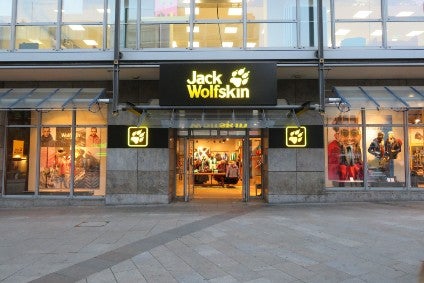 Callaway Golf Company is to acquire German outdoor clothing and footwear brand Jack Wolfskin for EUR418m (US$476m) in a move that furthers Callaway's push into the premium active lifestyle category.
On completion of the transaction, Callaway Golf will become the sole owner of Jack Wolfskin. The purchase is the third acquisition by Callaway Golf since 2017 and the largest acquisition in the premium active lifestyle segment. It follows the purchase of TravisMathew and Ogio.
The transaction, which is expected to close in the first quarter of 2019, should present Jack Wolfskin with further opportunities to grow internationally, Callaway says.
"We are very excited to welcome the Jack Wolfskin brand into the Callaway portfolio," says Chip Brewer, president and CEO of Callaway Golf. "Jack Wolfskin is a premium outdoor brand with tremendous international reach, being a leading brand in the European market and having a substantial presence in China. It also helps Callaway to expand its presence in the high-growth, active lifestyle category."
Melody Harris-Jensbach, CEO of Jack Wolfskin, adds the transaction is an important step for the brand and says it is "very pleased" to have Callaway Golf as a strategic and long-term shareholder.
"We are thrilled at the prospect of joining Callaway's growing portfolio of premium, active lifestyle brands. Callaway has proven over many years that they are great innovators and brand builders and we look forward to contributing our own product excellence to the wider group," she says. "We see that they really invest in the brands they acquire and couldn't be happier to be working with them."
Jack Wolfskin's largest current shareholders are affiliates of Bain Capital Credit, HIG Bayside Capital CQS, Avenue Capital Group, and BlueMountain Capital Management, which together own more than 67% Jack Wolfskin.
In fiscal 2018, the group generated sales of EUR334m and increased its adjusted EBITDA by almost a fifth to about EUR42.1m.