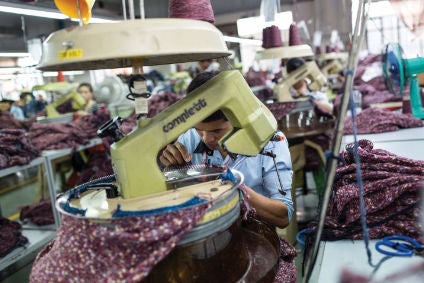 Cambodia's clothing industry has welcomed a reported drop in the number of workers who fainted while at work in garment factories last year – although the decline is disputed by unions.
The decrease, widely reported in Cambodia's local media quoting data from the National Social Security Fund (NSSF) under Cambodia's ministry of labour and vocational training, said 1,160 workers had fainted during 2017, 28% down on 2016 data.
However, the ministry has not published the report and just-style was unable to obtain a copy. Government officials would not confirm or deny the reported fainting figures.
Ken Loo, secretary general at the Garment Manufacturers Association in Cambodia (GMAC), accepts these statistics and told just-style the reduction in faintings follows a "concerted effort – including the government," in dealing with this long-standing problem across the sector.
Loo says that as well as efforts by factories to improve air conditioning and ventilation, information campaigns have also helped. "There was a lot of awareness [information] about nutrition", he says.
Loo would not predict if apparent this positive trend would continue into 2018 but adds: "Apparently we are doing the right thing at the moment [in preventing fainting] and these efforts will continue."
Another concern highlighted by labour representatives has been exposure to fumes from pesticides being sprayed on nearby fields in semi-rural clothing units.
Moreover, there is also disagreement over whether faintings are actually being reduced in number.
Ath Thorn, president of the Cambodian Labour Confederation told just-style there has not been any such drop. Instead, he says the number garment workers who fainted during work actually increased to 1,603 in 2017 from 1,160 in 2016.
Another local media report says Cambodia's national committee for health and work safety under the ministry of labour convened for the first time on Tuesday (13 February), promising to develop more measures to eradicate mass fainting from factories. These could include dedicated anti-fainting regulations, and continued awareness rising on worker nutrition.
Tun Sophorn, the International Labour Organization's national coordinator in Cambodia, who was also at the meeting, promised to support government efforts to prevent mass fainting by boosting worker nutrition, proper ventilation and limiting exposure to chemicals.