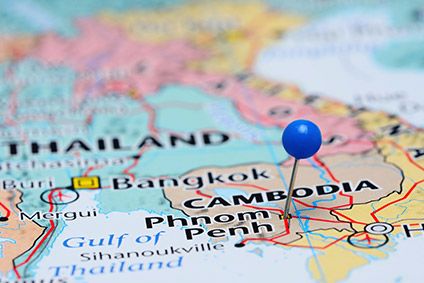 Cambodia's economic growth is expected to slow in 2020 if the European Union (EU) withdraws the Everything but Arm (EBA) trade scheme, the International Monetary Fund (IMF) has said, warning of a permanent decline in garment sector output and employment.
The economy is projected to grow 6.8% this year, slightly lower than 7% in 2019, driven by continued export growth and strong construction activity, a review published by the IMF on 26 December shows.
"Cambodia's economic outlook is subject to significant downside risks," Directors warned. "The on-going Everything but Arms (EBA) review by the EU—Cambodia's primary export partner—could lead to a suspension of preferential trade access later next year, which could have a large negative impact on economic activity."
Suspension could have a large negative impact on exports and growth in the short-run. In the event of full EBA suspension, tariffs would rise on average from 0.1% to 12.5%, the IMF says, causing a decline in exports to the EU of about 13% (equal to a 5% decline of total exports). The impact of this could lead to "a 3 percentage point decline in GDP growth", it warns.
Cambodia is the second-largest beneficiary of Everything But Arms trade preferences, accounting for over 18% of all imports coming into the EU market under the EBA scheme in 2018. EU imports from Cambodia totalled EUR5.3bn in 2018, 95% of which took advantage of EBA preferences. Clothing and textiles account for around three-quarters of EU imports from Cambodia at EUR4bn.
Suspension would lead to a permanent decline in garment sector output and employment in the long-run, the report noted, estimating a permanent level decline of about 10% for textile exports, 7% for textile industry output and 6% for textile employment.
In February 2019, the EU Commission started the process that could lead to a temporary suspension of Cambodia's preferential tariff arrangements under the EBA trade scheme. EBA preferences can be removed if beneficiary countries fail to respect core human rights and labour rights – and the EU has for some time been concerned about human rights violations in Cambodia.
The Commission will take a decision in February 2020 on whether or not to temporarily remove Cambodia's tariff preferences. Any withdrawal would come into effect after a further six-month period.
In its report, IMF Directors encouraged the authorities to implement policies to safeguard fiscal sustainability, address macro-financial risks, and support continued progress toward the Sustainable Development Goals (SDGs).
They commended Cambodia's significant progress toward the SDGs owing to "strong economic growth and structural reforms". They welcomed the authorities' structural reform plan aimed at improving competitiveness and diversification, including through trade facilitation, lowering the cost of doing business, and improving governance.
The Directors, however, emphasized that meeting the SDG targets by 2030 will require sustained policy efforts, particularly in improving education and health outcomes and investing in infrastructure.
"To improve economic resilience, structural constraints should be addressed, including through diversifying growth drivers, ensuring a reliable energy supply, strengthening anti-corruption efforts, and enhancing the regulatory environment," they noted in the report.
European and international business groups representing apparel, footwear and travel goods buyers have repeatedly voiced concerns at the labour and human rights situation in Cambodia, describing the potential withdrawal of EU EBA benefits and US GSP benefits as "worrying developments" for companies sourcing from the country.