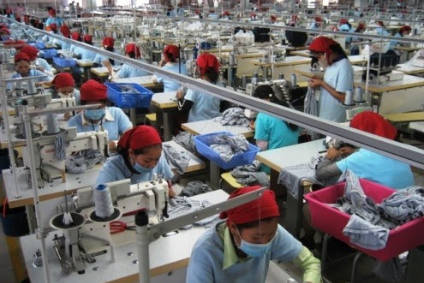 The Garment Manufacturers Association in Cambodia (GMAC) has welcomed the introduction of a new policy to safeguard the country's traders should the EU and US follow through with threats to pull the country's access to preferential trade terms.
Cambodian Prime Minister Hun Sen is introducing a 'National Independence Policy' aimed at making economic growth less reliant on the European and US markets by facilitating trade through the country's land border crossings.
The strategy is said to focus on improving the trade policy and customs procedures while reducing expenses at the border. Under the policy, Sen plans to cut personnel at border gates, leaving only immigration policy and customs officials.
"Right now we have so many institutions operating at the borders that they are an obstacle to trade and are costing us business," he said according to local paper Khmer Times. "Unnecessary expenses and corruption must be reduced – this is critical to make the country more self-reliant. It is something that we must absolutely do."
He added export and import fees would be cut under the policy to make trade more profitable.
"We have come up with a set of strategies to protect and improve the business sector so that we can survive even if we lose the Everything But Arms (EBA)."
Cambodia is the second biggest EBA beneficiary and 95.5% of its EBA-eligible exports were made under EBA preferences. In turn, garments account for some 75% of Cambodia's exports to the EU.
The EBA programme allows exporters in least developed countries to ship products duty-free to the EU. However, these trade preferences can be temporarily withdrawn in case of serious and systematic violations laid down in a list of fundamental human rights and labour right conventions in accordance with the provisions of the EU GSP (Generalised System of Preferences) regulation.
The EU absorbs 46% of Cambodia's garment exports – the highest amount, followed by the US.
In October, the European Commission said it had begun the formal process of withdrawing Cambodia's access to the duty-free Everything But Arms (EBA) initiative over the Southeast Asian nation's human rights record.
Last week, two US senators, Ted Cruz and Chris Coons, introduced the Cambodian Trade Act of 2019, which would require the US government to review the preferential trade treatment Cambodia receives under the General System of Preferences.
It is imperative for the US to review our trade terms with Cambodia. Last week I introduced legislation with @ChrisCoons to do exactly this. Hun Sen is now taking about "death" to opposition members if our allies try to hold him accountable. https://t.co/9Kuil7PyVk

— Senator Ted Cruz (@SenTedCruz) 14 January 2019
"America has invested in the political future of Cambodia by establishing reliable trade and commerce, as codified in the Generalized System of Preferences (GSP)," Cruz said in a statement.
"Cambodia's Prime Minister Hun Sen has exploited preferential treatment afforded to it by the United States and Europe. He has failed to meet basic labour rights standards, undermined the integrity of elections in Cambodia, and tilted toward China. The Cambodian Trade Act aims to hold him and his government accountable for this behaviour, and reinforces steps our European partners are taking.
"I question whether Cambodia should have preferential access to US markets. Countries that undermine democracy, ignore labour standards, disregard human rights, and fail to protect intellectual property should not enjoy special trade privileges."
The Garment Manufacturers Association of Cambodia, however, welcomed Hun Sen's decision.
"GMAC would like to deeply thank Samdech Hun Sen, prime minister of Cambodia, for his wise decision to allow the export-oriented garment, footwear and travel goods sector to be no longer under the inspection of Camcontrol for both exports and imports. This decision will ease the burden of the private sector as well as to reduce time with regard to relevant formalities and procedures.
"GMAC strongly believes that Cambodia will be able to ensure competitiveness based on its internal strength and minimise dependence on external preferences."