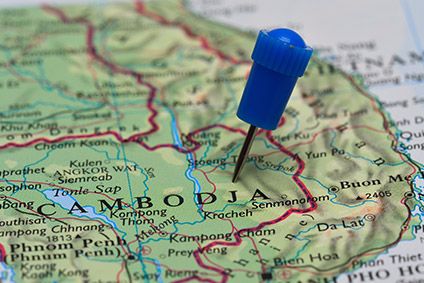 Cambodia's economy is expected to continue to grow over the next few years, new figures show, boosted by garment and footwear exports, and despite trade-related external risks.
The country's economic growth rate, which has been trending downward since 2013, should marginally expand to reach 7.1% in 2018, driven by strong domestic and external demands, according to the latest World Bank Cambodia Economic Update report published this week.
The report points to robust expansion in consumption and exports for economic growth. Domestic demand has been bolstered by higher wage growth and larger public investments, with fiscal expansion serving as stimulus.
At the same time, strong external demand has boosted exports of garment, textile and footwear products, which increased 16.1% year-on-year during the first half of 2018 – a two year high – from 8.3% at the end of 2017. The sector accounts for 74% of Cambodia's total merchandise exports.
Following a gradual recovery in the second half of 2017, Cambodia's total exports surged in the first half, supported largely by strong demand in the US and the European Union (EU).
Consistent with the growth in textile and apparel exports, fabric imports climbed sharply, growing at 37.1% during the first six months of 2018, reaching a three-year high.
The data also shows higher investment in the textile, apparel, bag, and footwear industries, with a rising number of factories opening during the first half of 2018. In contrast to a net decline of 48 factories due to factory closures in 2017, 44 new factories started operating – 31 of which are in the textile and apparel industries – during the first half, totalling 1,075 factories.
Cambodia's economic growth outlook is projected to ease slightly to 6.8% over the next two years. The report highlights a number of external risks, including the potential temporary withdrawal of the EU's Everything But Arms (EBA) preferences, ongoing trade frictions between the US and China, and continued appreciation of the US dollar against most global currencies.
"The European Union market accounts for more than a third of Cambodia's key exports, which are garment and footwear products," the report notes. "Therefore, losing EBA preferences, which currently provide Cambodia full duty-free and quota-free access to the EU for all their exports with the exception of arms and armaments, will likely slow Cambodia's export growth, and negatively impact its labour market in the short term.
"Trade disputes among major economies, especially the United States and China, will negatively impact global trade and disrupt regional and global value chains, with uncertain impact on Cambodia."
Despite this, World Bank has given the country a favourable longer-term outlook, boosted largely by rising FDI inflows to manufacturing and agriculture, and improved supply chain linkages between FDI and Cambodian firms.