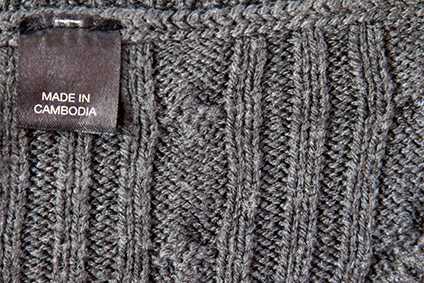 The number of footwear and garment factories registered for exports in Cambodia over 2019 jumped 24% compared with the year earlier, according to new data from the Ministry of Commerce.
The Cambodian Ministry of Commerce's annual report, cited by The Phnom Post, says it granted export rights under the preferential trading system to 78 garment, footwear and bag factories in the first 11 months of last year.
The report adds Cambodia's exports to international markets reached more than US$10bn in the first ten months of last year, mainly from the garment, textile, footwear and travel products sectors. Garment exports were worth $6.4bn, textiles $40m and footwear $905m.
Last week the International Monetary Fund (IMF) warned the country's economic growth is expected to slow in 2020 if the European Union (EU) withdraws the Everything but Arm (EBA) trade scheme.
Cambodia is the second-largest beneficiary of Everything But Arms trade preferences, accounting for over 18% of all imports coming into the EU market under the EBA scheme in 2018. EU imports from Cambodia totaled EUR5.3bn in 2018, 95% of which took advantage of EBA preferences. Clothing and textiles account for around three-quarters of EU imports from Cambodia at EUR4bn.
However, in February 2019, the EU Commission started the process that could lead to a temporary suspension of Cambodia's preferential tariff arrangements under the EBA trade scheme. EBA preferences can be removed if beneficiary countries fail to respect core human rights and labour rights – and the EU has for some time been concerned about human rights violations in Cambodia.
The Commission will make a decision in February 2020 on whether or not to temporarily remove Cambodia's tariff preferences. Any withdrawal would come into effect after a further six-month period.
A suspension would lead to a permanent decline in garment sector output and employment in the long-run, the report noted, estimating a permanent level decline of about 10% for textile exports, 7% for textile industry output and 6% for textile employment.