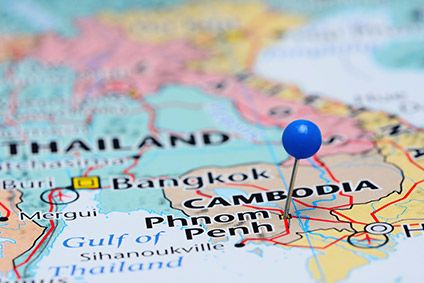 Garment unions in Cambodia are proposing brands and manufacturers contribute 40% of the minimum wage for workers in factories that have suspended operations due to the Covid-19 outbreak.
Official numbers show that the coronavirus pandemic has led to a halt of production in 91 garment factories and 91,500 garment workers have been laid off. According to the unions, garment workers and their dependent families cannot survive on US$70, a substantial drop from the minimum wage of US$190.
On 7 April, the Cambodian government announced that temporarily laid-off garment workers would only receive US$70 per month, instead of a previous proposal of US$114, where employers were to pay 40% and the government 20%.
"We hope brands can shoulder part of the responsibility by paying 40% of the minimum wage to support the garment workers," says Athit Kong, president of Coalition of Cambodian Apparel Workers' Democratic Union (CCAWDU), affiliated to the IndustriAll global union.
"1,180 of our members lost their jobs when 15 garment factories suspended operations and 8,000 members have been temporarily laid-off. There are protests against employers' failure to pay wages owed last month," adds Pav Sina, president of Collective Union of Movement of Workers (CUMW).
IndustriAll regional secretary Annie Adviento suggests that the Cambodian government enter into social dialogue with all trade unions.
"In times of crisis, national dialogue with trade unions is essential to find a tenable solution."
The Cambodian apparel industry has already appealed to brands to commit to existing orders despite the growing Covid-19 pandemic. "We urge you to honour the terms of your purchasing contracts and fulfil your obligations by taking delivery and pay us for goods already produced and goods currently in production," the Garment Manufacturers Association in Cambodia (GMAC) said in an open letter to buyers.
The Cambodian economy depends heavily on the garment industry, which accounts for more than 78% of the country's total merchandise exports and 20% of its annual economic growth. It is also the main non-agrarian employer in the country with nearly 700,000 garment workers employed in 1,500 factories.
GMAC has also joined forces with representatives from garment supplier nations Vietnam, Pakistan, China, Myanmar and Bangladesh urging global brands and retailers to consider the potential impacts on workers and smaller suppliers before cancelling orders or delaying payments.
This article was first published by the IndustriAll global union.