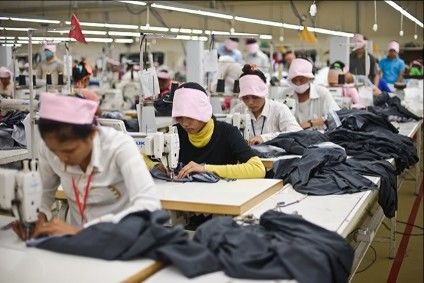 Nearly 250,000 garment and footwear manufacturing workers could be left jobless, and the livelihoods of 3m and their families affected, if the EU proceeds with threats to pull Cambodia's access to the Everything But Arms duty-free trade benefit, according to a global campaign launched on behalf of Cambodian workers.
The National Union Alliance Chamber of Cambodia (NUACC) has put together a letter signed by 700,000 garment and footwear factory workers urging the European Union not to pull the benefit on the back of concerns they will lose their jobs.
But it also criticises groups representing international brands and retailers who have recently written to the Cambodian prime minister Samdech Hun to voice their concerns at the possible loss of the EBA agreement.
"Unfortunately, some speak with a forked tongue. While they express concern for rights and wages, they seek to keep their costs low and some companies have threatened to take their manufacturing elsewhere," the NUACC says.
Its letter notes that 80% of Cambodia's total exports is made up of apparel and footwear and that in 2018 combined sales to the EU and US reached US$8.5bn, or 38% of Cambodia's GDP.
The European Union (EU) has begun a process that may lead to the suspension of its 'Everything But Arms' (EBA) trade agreement with Cambodia. The EBA arrangement allows EU members to import products (other than armaments) free of tariffs and quotas but it can be removed if beneficiary countries fail to respect core human rights and labour rights.
This has prompted global brands including Nike, Gap Inc, Levi Strauss and Under Armour to urge the Cambodian government to address criticism of its human rights record or risk losing international trade benefits.
And in January the US passed the Cambodian Trade Act of 2019, a bill that requires the US government to review the preferential trade treatment Cambodia receives under the General System of Preferences (GSP). However, the NUACC letter calls this the 'Everything But Assistance' scheme.
"For many years, Cambodia has been a pawn in a game of brinkmanship where external players sought to have their cake and eat it too," says NUACC president Som Aun. "The time has come to deal with the realities of a rapidly changing world."
The union alliance estimates the suspension of the EBA tariff system would leave some 43% of garment workers (nearly 225,000 people) and 20% of footwear workers (more than 20,000 people) unemployed.
It also notes that research suggests and history demonstrates that economic sanctions lead to an increase in poverty – especially among women, minority communities and other marginalised groups.
"We live where the shoe meets the ground. Where the sleeve meets the wrist. We work hard. We live hand to mouth, but our lot is improving. Wages have increased by 7% in the last year and we are committed to seeking further adjustments. This, we will do this on our own terms, in our own time, in our own nation.
"If you wish to help the working men and women of Cambodia, keep the EBA and preferential trade measures in place."