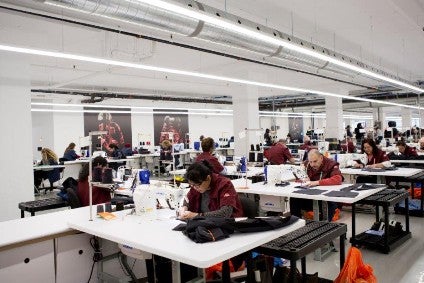 Performance luxury apparel brand Canada Goose has officially opened its second production facility in Quebec in a move it says is a testament to its commitment to keeping production of its core down-filled jackets in Canada.
The 115,000 sq ft facility is located in Montréal's historic Chabanel district, which was once the heart of the manufacturing industry in Montreal.
Nearly half of Canada's manufacturing jobs in the fashion industry are located in Québec, and Montréal ranks third in clothing manufacturing in North America. The Chabanel district has seen a decrease in manufacturing employment of 87% – and Canada Goose says its new factory will contribute to the revitalisation of the area.
Since 2017, the outdoor apparel specialist has more than doubled its number of manufacturing workers, and now employs more than 20% of the cut and sew labour force in Canada and 8% of the industry in Quebec, with 170 people based at the new Montréal facility. It plans to offer a total of 650 new positions by the end of 2020.
Montréal-made products will include the Armstrong Hoody, Langford Parka, and the Chilliwack Bomber.
As part of the company's growing investment in Canadian manufacturing, the new facility will also house a National Sewing Training School for prospective new hires. The new school will be the company's fifth in the country and second in the province. Graduates of the programme will move directly to full-time employment, with more than 800 employees across the country having participated to-date.