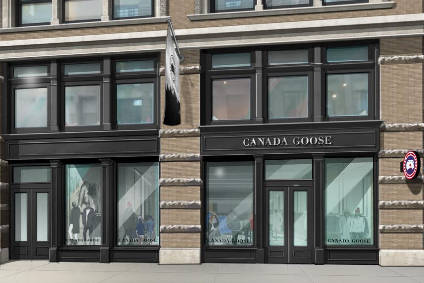 Canadian outdoor apparel specialist Canada Goose has hailed a "strong performance" in the third quarter, booking a 60% profit hike, and named current Jimmy Choo finance chief Jonathan Sinclair as CFO.
For the three months to 31 December, Canada Goose saw net income rise 60% to CAD62.9m (US$49.9m) from CAD39.1m in the year-ago period, while gross margin expanded to 63.6%, compared to 57.5% last year.
Total revenue increased by CAD56.8m from CAD209.1m to CAD265.8m in the period, representing year-over-year growth of 27.2%.
Meanwhile, wholesale revenue in the quarter was CAD134.2m as compared to CAD137m last year.
Direct-to-consumer revenue reached CAD131.6m, compared to CAD72m in the prior-year period, primarily driven by incremental revenue from four new company operated retail stores and additional seven new e-commerce sites which opened in fiscal 2018. Canada Goose added it experienced continued strong performances of its existing e-commerce sites and retail stores.
"In our peak selling season, we delivered strong performance across geographies, channels and categories this quarter, reflecting the continued demand for the Canada Goose brand around the world," said CEO Dani Reiss. "Year to date, we added e-commerce sites in seven new markets, opened five new stores across three continents, including our partner operated store in Tokyo, and we successfully added more than 700 employees."
Separately, the company announced the appointment of Jonathan Sinclair as chief financial officer and executive vice president.
Sinclair, who is expected to join the company towards the middle of the year, will succeed John Black who has informed Canada Goose of his intention to retire. Black will continue as CFO until Sinclair's appointment and will remain in a senior role until the end of the year to ensure a smooth transition.
Sinclair brings more than 20 years of global financial and operational experience to his role. He currently serves as CFO and executive vice president of business operations at Jimmy Choo, where he was instrumental in its initial public offering and strategic review process, which ultimately led to its sale to Michael Kors Holdings Limited.
Prior to this role, he served as COO at Jimmy Choo and Vertu, and he has also held a number of financial leadership roles at companies including Pentland Brands and The Boots Company Plc.