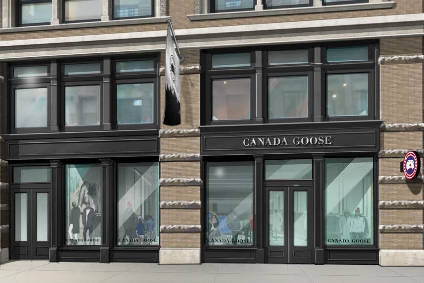 Canadian outdoor apparel specialist Canada Goose has revealed better-than-expected second-quarter profit and raised its outlook for the year as it looks to build on its business in China and expand domestic operations.
Earnings in the quarter ended 30 September rose to US$49.9m from $37.1m, representing an increase of 34.5%, thanks to sales growth and gross margin expansion in the three month period.
Gross margin widened to 55.8% from 50.6%, driven by a greater proportion of direct-to-consumer (DTC) revenue, as well as underlying gross margin expansion at the respective channel levels.
Total revenues were up 33.7% to $230.3m from $172.3m a year earlier, growing 31.5% on a constant currency basis. Wholesale revenues grew 18.3% to $179.9m, while DTC revenues more than doubled to $50.4m from $20.2m a year earlier thanks to the strong performance of well-established retail stores and e-commerce sites.
"Continuing the momentum of the first quarter, the results we delivered in the second quarter are exceptional," said CEO Dani Reiss. "With such an outstanding first half of the fiscal year, we are in a strong position ahead of our peak selling season. Our wholesale growth and DTC sales productivity further accelerated, which more than offset strategic growth investments that will carry us into the future, including opening a third manufacturing facility in Winnipeg, the build-out of our Greater China business, and the commercial launch of our DTC channel in that market."
The company now expects fiscal 2019 results to exceed its previous outlook thanks to the strength of performance across the business, particularly from the DTC channel. Annual revenue growth of at least 30% is forecast, as is adjusted EBITDA margin expansion of at least 150 basis points compared to full year fiscal 2018. Annual growth in adjusted net income per diluted share is forecast to reach at least 40%.
In 2019, Canada Goose is expecting to invest in infrastructure and people including IT, new retail stores, manufacturing capacity, and establishing a country office in Greater China to lead market development efforts in the country.