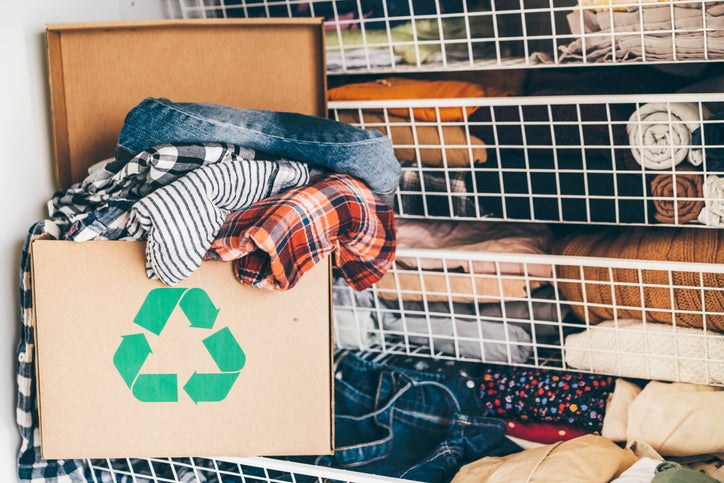 The CheckSammy Drop programme simplifies textile waste by allowing clothing retailers, manufacturers and even multifamily apartment communities to deploy 'Drop Bags' or 'Bins' and schedule one-time or recurring pick-ups.
CheckSammy will then consolidate and redirect collected material to a more sustainable and measurable outcome.
In the US, bulk and textile waste is not serviced by everyday waste service providers and states are now establishing regulations on where these materials can go. Over 17 million tons of textiles go to landfills every year, according to CheckSammy, but nearly 95% of all textiles are reusable or recyclable.
The clothing and textile industry is the second largest polluter in the world and growing concerns have inspired states and municipalities to introduce new legislation to mitigate waste. The California legislature is proposing a Senate Bill requiring producers to implement and fund a producer responsibility program to enhance recycling and increase the reuse of textiles. Massachusetts recently banned clothing and fabric from trash cans.
"We've spent the past four years supporting retailers and other industries across North America through the growing issue of textile recycling to help alleviate illegal dumping and save our landfills. However, we continue to hear large retailers today ask what, if any, solutions exist when they're juggling extra inventory they cannot sell or throw away," said Sam Scoten, CEO and co-founder of CheckSammy. "The most important thing to know is that there are options. From recycling mannequins to debranding clothing, or converting denim into teddy bears for a non-profit organisation, we are constantly finding new ways to recycle and reuse commonly-discarded materials and provide reporting to support ESG improvements."
CheckSammy Drop allows businesses to act locally. All recycled goods, including textiles, are kept onshore. Drop provides detailed reporting and analytics which can be used to drive positive change in ESG scores.
"We've already done the work to navigate the complexity and find responsible solutions for retailers and other textile-heavy industries like hospitality and healthcare," added Paul Botelho, co-founder and chief technology officer at CheckSammy. "Our inspiration for launching CheckSammy Drop is to be the easy click or call when the solution doesn't seem clear. Many organisations promote the steps they take to offer recycled shopping bags or sustainable stock goods. However, there's still a significant opportunity to showcase to employees and customers the specific ways textiles and other goods are being diverted from landfill."