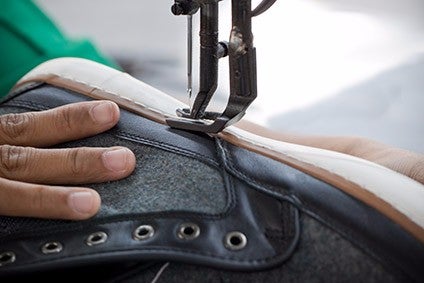 More collaboration is needed among buyers, suppliers, government, civil society, and communities to reduce the incidence of child labour in the Indian city of Agra – a major source of leather and footwear.
New research highlighting the scale of the problem suggests that around 25% of Agra's population is involved in making shoes, producing around 200m pairs annually and supplying up to 65% of the domestic market.
The resulting report, 'Children's Lives at Stake: Working Together to End Child Labour in Agra Footwear Production,' from the Fair Labor Association (FLA), iMentor and the Stop Child Labour Coalition (SCL), found that between October 2014 and December 2016 there was a high prevalence of child labour in the city where the production of shoes is the most important economic sector after tourism.
Researchers found that only 55% of children in Agra were enrolled in school. Of the working children in the surveyed communities, half had never attended school at all, with many working at home or in informal small production units making shoes. Interviews with workers and other community stakeholders revealed that the root cause of child labour in the footwear industry can often be traced to low earnings from footwear production and a lack of educational infrastructure.
Although the research team documented no child labour in the export facilities they visited, they found examples of subcontracting to informal workplaces, increasing the risks for international buyers seeking to source leather and footwear parts from this region.
Companies are under increasing pressure – from governments, civil society, consumers, investors, and others – to examine whether child labour occurs anywhere in their supply chains and develop a plan of action to address any risks vulnerabilities they uncover.
"Curbing child labour in Agra requires the involvement and collaboration of multiple stakeholders," says Sharon Waxman, president and CEO of FLA. "There is no one level of the chain or participant in the industry who working alone can erase child labour. The industry is incredibly complex, and our research shows that buyers and suppliers must work together in concert with community-based efforts supported by local governments, civil society organisations, and communities to be successful in reducing and preventing child labour."
A community-based approach to get all children out of work, and back into school, as well as proper risk assessment and concrete measures by footwear companies to solve issues of child labour and other labour right violations in their supply chain, are both "absolutely necessary", according to Sofie Ovaa, co-ordinator of the Stop Child Labour Coalition.
"The combination of a community-based approach to stop child labour in the sourcing and production areas, and top down policies and their implementation to improve labour conditions in the full supply chain, including paying fair wages, will lead to lasting results."
The report offers a number of recommendations for how buyers and suppliers operating in Agra can collaborate to build more responsible and transparent supply chains free from child labour.
While the project team recommends collaboration to create a 'Child Labour Free Zone' in Agra, it also advises international brands sourcing from Agra to:
Foster positive collaboration with their tier-one factories to build trust and learn more about their full upstream supply chains, to ensure that supplier practices around subcontracting and sourcing of raw materials do not lead to child labour.
Conduct regular monitoring visits, focusing closely on issues facing young workers, and taking steps to eliminate unauthorised subcontracting.
Ensure that they always have up-to-date information available on all of their raw materials suppliers, sub-suppliers, and subcontracting units to help identify and address potential child labour risks.
Avoid purchasing or other practices (like very short production times, small orders, or frequent design changes) that exert economic pressure on suppliers, involvement) in the entire value chain of footwear manufacturing.
Advocate for the government of Agra to provide a comprehensive education for children that may include a vocational curriculum for those who wish to learn about the footwear sector.
Conduct further research to map the supply chains of international and domestic companies to determine if they use the same or different production locations (factories and clusters) for export and domestic markets.
Representatives from the footwear industry, government, local civil society organisations and community members should join forces to pilot a project that raises awareness about children's rights, addresses child labour in the local workforce, and improves the local education infrastructure.
Click here to access the full report.