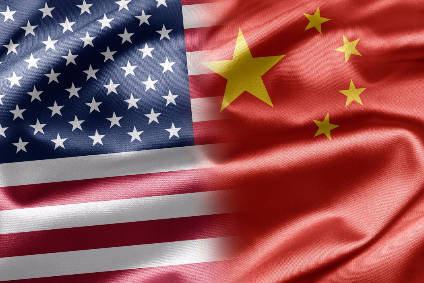 China's efforts to secure market economy status have been dealt another blow after the US rejected the country's request to be treated as such under global trading rules – a move likely to heighten tensions between the two economies.
The US had submitted a statement of opposition to the World Trade Organization (WTO) in mid-November, but only made it public last Thursday (30 November). It was submitted as a third-party brief in support of the European Union (EU) and, if upheld, will allow Washington to maintain high anti-dumping duties on Chinese goods.
According to investment research firm Morningstar, economists estimate the decisions by the US and EU to treat China as a non-market economy have cost Chinese producers billions of dollars in exports, with some of their goods facing tariffs well above 100%.
Beijing filed complaints late last year against both the US and the EU with the WTO trade court demanding they grant it market status. The US, Europe and others, however, say their promise to grant China that status was contingent on it implementing market liberalisation measures that have yet to be carried out.
At the heart of the dispute is whether or not China has transitioned to a market economy since it joined the WTO, with Beijing believing the shift should have happened automatically after 11 December 2016.
Treating China as a non-market economy (NME) makes it easier for countries to penalise Chinese exports in anti-dumping proceedings, often leading to higher anti-dumping duties.
Last year, Augustine Tantillo, the president and CEO of the National Council of Textile Organizations (NCTO), voiced concern over China's "chronic misallocation of investment" to expand its state-owned enterprises in the textile supply chain where there is an excess of global capacity, which invariably leads to Chinese dumping and other non-free-market economic practices. Those actions, he said, hurt the global economy and should not be rewarded by the US.
In a statement this weekend he welcomed the decision and called for "even more aggressive" US enforcement to crack down on unfair trade practices.
"The evidence could support no other decision," said Tantillo. "Properly defining China as a non-market economy simply confirms what every US manufacturer already understands – China has a set of unfair and extraordinary advantages that allow them to displace investment, production and employment in our market.
"We encourage President Trump to use his trip to Asia to reaffirm his commitment to enforcing America's trade laws fairly, but resolutely," Tantillo continued.
The move comes as trade tensions between the US and China increase, with the Trump administration preparing several possible major trade actions, including broad tariffs or quotas on steel and aluminium and an investigation into Chinese intellectual property misappropriation.
In response, China's Ministry of Commerce (MOC) has expressed "strong dissatisfaction" with the US opposition to granting it market economy status.
"China…resolutely opposes the rejection, as the US government tried to mix the concepts of the surrogate country approach and market economy status to mislead the public," it said in a statement seen by China Daily.