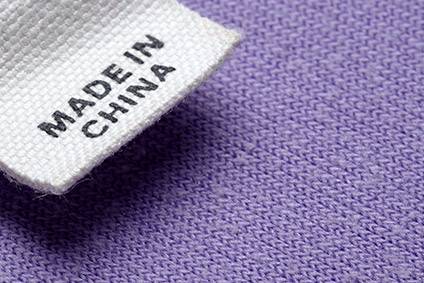 The average unit price of China's apparel exports into the United States has dropped steadily over the last seven years – with a decline of 4.8% in the last year alone, new data shows.
The fall comes despite claims US buyers are seeking alternative sources for clothing amid concerns the east Asian country is losing its competitiveness.
An analysis of the latest figures from the Department of Commerce's Office of Textiles and Apparel (OTEXA) shows China's apparel prices fell by 11.5% to an average of US$2.38 per square metre equivalent (SME) in 2017, compared to $2.69 per SME in 2010.
There was a year-on-year spike in apparel prices in 2011 to reach $3.02 but they have consistently fallen since then. This makes it the only country among the top ten apparel importers into the US to have seen an average drop in prices over the last eight years.
China also remains by far the largest supplier of apparel to the US, accounting for around 42% of the total, helped by the size of its supply base, its range of skills, its quality levels, its product variety and the completeness of its supply chain.
Among the top ten US apparel supplier countries, China's unit price is the second lowest after Cambodia – and lower than its nearest rivals Vietnam and Bangladesh.
Prices from Vietnam came in at $3.21 per SME last year and are 4.2% higher than in 2010. However its prices have begun to drop over the last two years. In 2014 and 2015 they remained at an average of $3.37 per SME; dropped to $3.22 in 2016, and fell a further 0.3% in 2017.
Meanwhile Bangladesh, the third largest apparel supplier to the US, has seen its prices rise 15.9% from $2.45 to $2.85 per SME over the last seven years. But in the last year its average price has fallen to $2.73.
For Cambodia, prices have fluctuated since 2010 when they were around $2.35 per SME, peaking at $2.50 a year later. In the last year, prices have dropped from $2.37 to $2.31. India has seen the largest drop in its prices at 25% from $3.20 to $2.39 per SME in 2017.
Among the top ten supplier countries, Honduras has recorded the largest increase in prices since 2010, soaring 82% to $3.46 per SME from $1.90, followed by El Salvador.
Yet the most expensive of the top ten countries last year was Mexico. Its apparel shipments to the US in 2017 reached $4.27. Indonesia was the second most expensive at $3.72 per SME.
Pakistan dropped off the list of the top ten apparel importers during 2017, replaced by Nicaragua. Between 2010 and 2016, Pakistan's prices have jumped 28.5%.