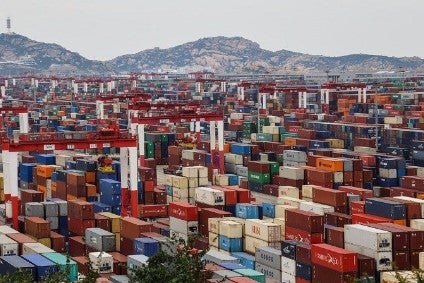 A textile trade body in China has said the number of firms cancelling export orders is growing by the day, leading to increasing pressure on upstream firms' supply chains.
The China National Textile and Apparel Council (CNTAC) said, according to survey data from a weekly report by the China Textile Federation, 37% of the 242 companies surveyed reported on 25 March that they had seen export orders cancelled.
In addition, 26.4% said they are seeing export orders at less than 50% of pre-virus levels.
Workers are in the "early stages" of returning to work following a country-wide lockdown earlier this year. But insufficient orders are the first challenge factories are reporting, says CNTAC.
"Insufficient orders and poor sales are the outstanding difficulties facing enterprises today. Under the severe situation of global epidemic prevention and control, it is recommended that enterprises carefully arrange production and actively prevent and control capital chain risks."
Additionally, exporters are experiencing cases where shipped goods are stranded or they refused to be received on the other side, increasing the cost burden.
"Although the domestic epidemic prevention and control situation is steadily improving, the global epidemic prevention and control situation is extremely severe and is expected to continue for a long time," said CNTAC.
"The international market has declined significantly, and there is a high degree of uncertainty on the impact on the domestic textile supply chain. Recently, due to the cancellation of orders, many textile companies have experienced a sudden increase in inventory and a tight capital chain.
"It is recommended that enterprises make predictions in accordance with the overall tight market situation in the first half of the year, reasonably plan production and operation strategies, carefully arrange production load, raw material inventory, and investment projects, vigorously prevent and control capital chain risks, and strive to maintain low-speed and stable operation."
Manufacturers across major apparel sourcing countries have reported disruption to their businesses, either as a result of a raw material delay and/or an increase in requests to cancel orders.
Bangladesh says it could see a US$6bn hit in export orders for its fiscal year ending July, while in Myanmar, factories have said tens of thousands of garment workers could likely lose their jobs as orders are cut from buyers.
Here we take a look at how Asia supplier countries are responding to the outbreak.
Click here for additional insight: How coronavirus is impacting the global clothing industry