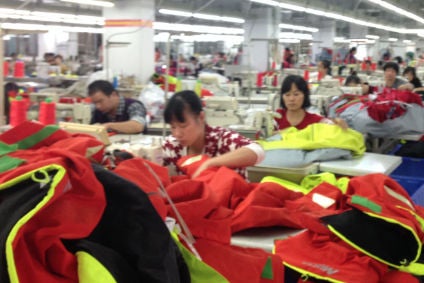 Factory activity in China continued to rise modestly in December – but the rate of new order growth eased to a three-month low, and export sales rose only slightly, pointing to cooling overseas demand.
At the same time, confidence towards the 12-month business outlook remained relatively weak, and staffing numbers stagnated.
Nonetheless, a further rise in new work prompted firms to expand their purchasing activity and inventories, which in turn placed further strain on supply chains, a new survey shows. And operating expenses rose for the fourth month in a row, albeit marginally, which underpinned a renewed increase in selling prices.
The latest reading from the Caixin China General Manufacturing PMI (purchasing managers' index) – a snapshot of operating conditions in the manufacturing economy – was 51.5 in December, edging down from 51.8 in November.
Figures above the 50.0 point mark indicate growth in manufacturing activity – so although there was improvement during the month, it marks a slowdown on the pace of expansion seen in both October and November.
"China's manufacturing economy continued to stabilise in December, although the expansion in demand was not as strong as the previous two months," says Dr Zhengsheng Zhong, director of macroeconomic analysis at Caixin subsidiary CEBM Group.
"Subdued business confidence was a major factor behind the economic slowdown this year. As the phase one trade deal between China and the US has sent out positive signals, there is room for a recovery in business confidence, which should be able to help stabilise the economy."
Weighing on the headline index in December was a softer upturn in total new business at the end of the year. The rate of new order growth was modest, having eased to a three-month low. Panel members suggested that demand both at home and abroad had improved, though export work continued to rise only slightly overall.
The sustained rise in new orders underpinned a further increase in production volumes during December. The rate of expansion remained strong overall, despite edging down for the second month in a row.
Staffing levels were unchanged in December, as a number of firms mentioned efforts to contain costs and boost efficiency. As a result, the level of outstanding business rose again, albeit at a weaker pace.
Purchasing activity rose for the sixth month in a row, though the rate of growth cooled from November. This, in turn, led to an increase in inventories of purchased items. Inventories of finished goods also expanded at the end of the year, which some companies linked to expectations that demand conditions will improve in the months ahead.
Firmer demand for inputs placed further pressure on supply chains, with average lead times for purchased items lengthening again in December.
At the same time, manufacturers registered a further rise in operating expenses, which was attributed to greater raw material and staffing costs. However, the rate of input price inflation was marginal and much softer than the series average. Nonetheless, the further increase in costs led companies to raise their selling prices for the first time since June, and at a modest rate.
Although Chinese goods producers generally expect output to rise over the next year, concerns over ongoing trade tensions, environmental protection policies and intense market competition mean overall sentiment remains weaker than the historical trend.