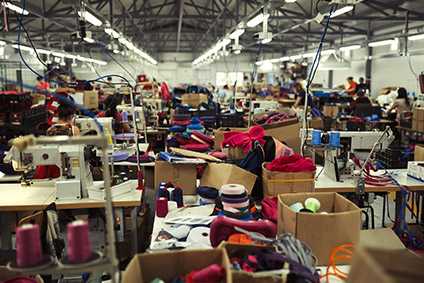 A shortage of workers and higher costs and shortfalls on the raw material side are among the top challenges facing China's garment industry as the coronavirus disrupts their supply chains, according to a survey of almost 300 apparel companies.
The survey of 294 apparel companies and 20 apparel industry clusters (interconnected factories that make specific types of apparel product) in China was carried out by the China Garment Association on two days last week (19-20 February).
Its aim was to understand the impact of the coronavirus (2019-nCoV or Covid-19) on China's garment industry and production.
Survey respondents included both garment factories (63.3%) and apparel brands (36.7%), with around 83.4% reporting over CNY20m (US$2.85m) in annual sales.
State of production
68.4% of surveyed companies said they have gradually resumed production. Of these companies, about 45.6% of their workers have returned. They also expect their production output to reach 50% of its normal level by March and could fully recover by April, should the situation stabilise.
However, almost one-third (31.6%) said they have not resumed production because of a mix of factors including the need to prevent coronavirus, government restrictions, and the difficulty in recruiting workers. Furthermore, apparel companies from the areas most affected by the coronavirus reported no plans to reopen anytime soon.
Around 87.2% of "large companies" surveyed have resumed production, much higher than "medium-sized" (65.4%) and "small-sized" (34.7%) enterprises. [Note: according to China's Bureau of Statistics, for manufacturers, "large companies" typically refer to those with over 1,000 employees and over CNY400m (US$57m) annual sales revenue; "small or mini-sized companies" are those with less than 200 employees and less than CNY3m (US$0.43m) annual sales revenues. "Medium-sized companies" are those in between.]
Drilling down, more apparel brands (74.3%) said they have resumed business operations, than garment factories (64.9%). Meanwhile, some apparel brands said only their management team had resumed work or those whose positions enable them to work from home; however, their plants remain closed.
Over half of the surveyed companies (54.08%) said less than 50% of their workers have returned. The lack of workers is a more pressing issue for small-sized companies (80%).
Key challenges facing surveyed companies:
#1: Lack of workers – especially those whose workers are unable to return to the factory from other parts of China due to travel restrictions (68.7%).
#2: Cost increase and a lack of supply of raw material from the upstream sector (29.9%).
#3: Slow and stagnant sales, overstock of finished products due to delayed orders, and tight cash flows (20.6%).
#4:: Weak market demand and order cancellations (19.2%).
#5: Disrupted logistics and transportation (19.2%).
#6: Hard to procure protective equipment (such as facial masks) (16.8%).
#7: Cancellation of exhibitions, harder to explore markets and more financial burden (8.4%).
About the author: Dr Sheng Lu is associate professor in the Department of Fashion and Apparel Studies at the University of Delaware.
Click on the following links for more coronavirus coverage: