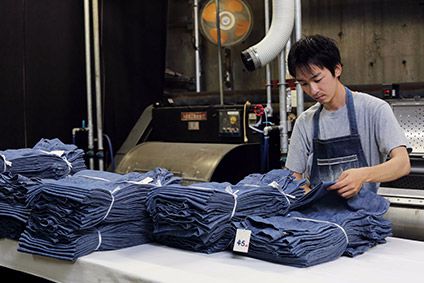 Manufacturing activity in China surged to a near-decade high in October as the country continued to recover from the Covid-19 pandemic – but overseas demand softened amid a resurgence of the coronavirus across a number of export markets.
Companies across China's manufacturing sector recorded sharper rises in both output and total new work, a new survey shows today (2 November).
And stronger overall market conditions led to an improvement in business confidence, which hit its highest since August 2014.
As a key indicator of how China's post-coronavirus manufacturing recovery is continuing to pick up speed, the Caixin China General Manufacturing PMI (Purchasing Managers' Index) rose to 53.6 in October – the highest reading since January 2011. The above 50.0 reading signals an improvement in overall operating conditions.
The indicator provides a snapshot of operating conditions in the manufacturing economy, and has now pointed to an improvement in the health of the sector for each of the past six months.
Supporting the higher PMI figure was a sharper increase in total new work during October. The latest upturn in overall sales was the sharpest since November 2010, with panellists widely commenting that market conditions continued to recover from the Covid-19 pandemic earlier in the year.
But while new export work also rose in the month, the rate of growth slowed notably and was only marginal. The second wave of coronavirus infections in Europe and the third wave in the US have significantly dampened growth of new business from overseas.
The substantial increase in overall workloads led manufacturers to expand their output again in October, with the rate of growth among the sharpest seen over the past decade.
Greater inflows of new work also exerted further pressure on capacities, as shown by a sustained rise in the level of work-in-hand (but not yet completed). The rate of backlog accumulation was little-changed from September and solid.
However, companies maintained a cautious approach to staff numbers in October amid reports of efforts to contain costs. Consequently, firms raised their staffing levels only slightly.
In response to higher operational requirements, manufacturers raised their buying activity. As a result, stocks of purchased items rose at a rate that, though modest, was the quickest since July 2016. The delivery of goods to clients meanwhile led to a slight dip in inventories of post-production items.
The time taken for purchased inputs to arrive at Chinese manufacturers lengthened slightly in October. Some firms mentioned that low stock levels and staff shortages at suppliers had weighed on overall vendor performance.
Latest data showed a weaker increase in average input costs during October, with operating expenses rising modestly overall. Panel members generally linked the upturn to an increase in raw material prices. Companies partially passed on higher cost burdens to clients by raising their average selling prices. The rate of charge inflation was mild, however, despite quickening since September.
Reflecting the strong improvement in overall market conditions, business confidence regarding the 12-month outlook for output improved to its highest since August 2014. Panel members generally expect the impact of the pandemic to subside and global economic conditions to recover over the next year.
"Recovery was the word in the current macro economy, with the domestic epidemic under control," says Dr Wang Zhe, senior economist at Caixin Insight Group.
"Manufacturing supply and demand improved at the same time. Enterprises were very willing to increase inventories. Prices tended to be stable. Business operations improved, and entrepreneurs were confident.
"But the twists and turns of overseas infections remained a headwind for exports. The full recovery of employment depends on stronger and more-lasting business confidence."