China's polyester production is expected to see sluggish growth in 2020, but the overall outlook for the global polyester industry continues to be positive, according to a new forecast.
Global consultancy Wood Mackenzie sees "a dismal outlook for the Chinese polyester market this year," with production growth sitting just below 3%.
However, "overall polycondensation run rates are expected to remain above 80%," says Salmon Lee, Wood Mackenzie head of polyesters. "Polyester fibre utilisation rates are expected to see a small increase of about one percentage point for 2020, hitting 81%. Additionally, the fast-growing PET film segment could see operating rates as high as 96% this year.
"It is the PET bottle segment that is dragging down the whole supply chain, with around 61% of capacities expected to run – a victim of the aggressive additions in capacities over the past three years."
Despite a disappointing 2020, Chinese polyester growth will likely bounce back by the end of this year, setting the stage for a recovery in 2021.
Globally, "polyester production looks set to flirt with 90m tonnes by the end of 2020. This is a significant milestone for the industry. As recently as 2016, world polyester production was just above 70m tonnes. Ten years ago, production was not even 50m tonnes.
"The fact that global polyester production has almost doubled in a decade speaks volumes about its growth story. While some market players continue to warn about overcapacity for bottle-grade PET and many grades of filament yarns, overall utilisation rates are expected to sit slightly higher year-on-year for 2020, at 73% and 80% respectively."
Lee says all polyester fibres, bottle-grade PET and film-grade PET are expected to see a small improvement in utilisation rates globally for 2020.
Headwinds from the broader market, chief among them the US-China trade war, could be a major dampener for the polyester supply chain, however.
"If the Chinese economy continues to reel under the weight of slowing exports, and the Chinese yuan continues to weaken vis-à-vis major currencies, purchasing power among the Chinese could see a net decrease. If this happened, consumption within the world's second-largest economy will be impacted.
"International demand for Chinese-made garments and other textile products could also continue to weaken into 2020, as major economies – including the European Union and the US – could potentially see slower growth next year. Indicators such as the Canton Trade Fair, online shopping festivals and the Black Friday and Cyber Monday buying sprees are suggesting that the Chinese textile industry, and in extension the polyester industry, are not performing as well as previously seen," says Lee.
While the short-term looks challenging for the Chinese polyester industry, the long-term picture is more promising, he adds.
"The Chinese polyester industry has proven to be more resilient than many would like to believe, with growth rates above what forecasts have been suggesting.
"Armed with such optimism, the most aggressive market participants are giving a much brighter prognosis for the polyester chain in 2020 and beyond – especially for suppliers of polyester products. Pointing to the market for polyester raw materials, 2020 may see one of the best years for polyester procurement managers."
Free Whitepaper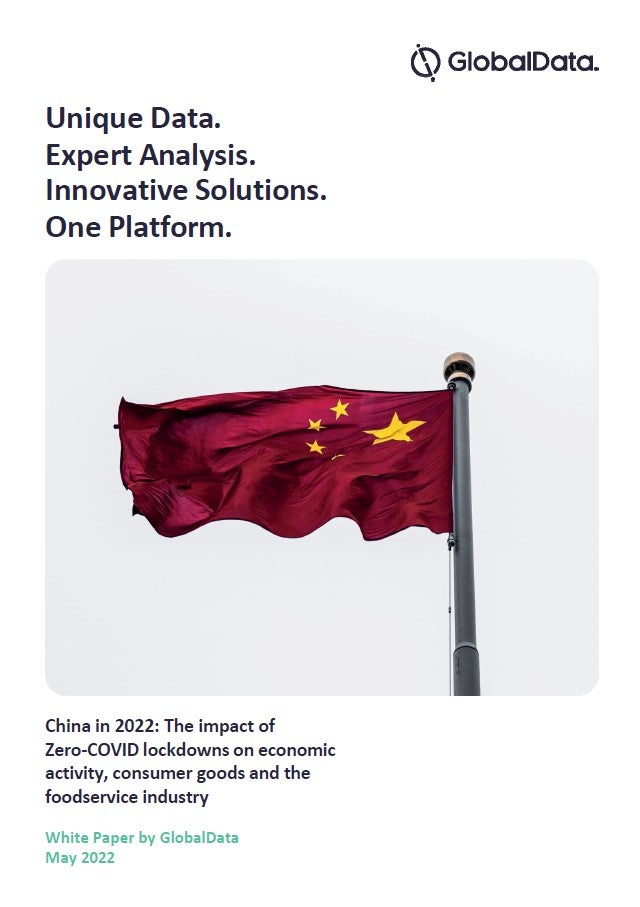 What is the impact of China's Zero-COVID lockdowns on economic activity, consumer goods and the foodservice industry?
While wanting to protect the country from being overwhelmed by Omicron, China's adherence to a Zero-COVID policy is resulting in a significant economic downturn. COVID outbreaks in Shanghai, Beijing and many other Chinese cities will impact 2022's economic growth as consumers and businesses experience rolling lockdowns, leading to a slowdown in domestic and international supply chains. China's Zero-COVID policy is having a demonstrable impact on consumer-facing industries. Access GlobalData's new whitepaper, 
China in 2022: the impact of China's Zero-COVID lockdowns on economic activity, consumer goods and the foodservice industry
, to examine the current situation in Shanghai and other cities in China, to better understand the worst-affected industry sectors, foodservice in particular, and to explore potential growth opportunities as China recovers. The white paper covers:
Which multinational companies have been affected?
What is the effect of lockdowns on foodservice?
What is the effect of lockdowns on Chinese ports?
Spotlight on Shanghai: what is the situation there?
How have Chinese consumers reacted?
How might the Chinese government react?
What are the potential growth opportunities?
by GlobalData