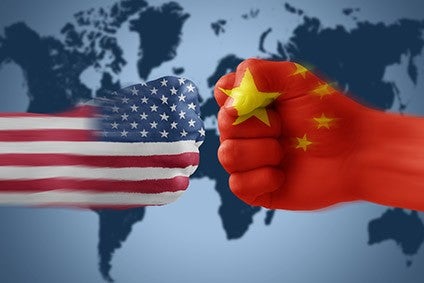 China has reportedly vowed to retaliate with countermeasures if the US follows through with plans for fresh tariffs on US$300bn worth of goods from the beginning of September.
According to a report in the Financial Times citing China's ministry of commerce on Friday (2 August), the US announcement "seriously violates" the agreement made between US President Donald Trump and China's President Xi Jinping at the G-20 summit in Japan in June.
At the end of last week, Trump tweeted plans for a 10% tariff hike on $300bn of additional Chinese products from 1 September, shortly after another round of talks between US and Chinese trade negotiators that indicated more negotiations would take place in early September. The new tariff plans have left apparel brands, retailers and importers reeling.
The Financial Times, citing a Mofcom spokesperson, said China "will have to take necessary countermeasures [and] all the consequences will be borne by the US."
Earlier, the ministry had responded to reports of an open letter to Trump, where over 100 Americans asked him to stay the course on China and maintain a hard line. Mofcom said the letter attempted to "defame and smear China's domestic and foreign policies, instigate decoupling of Chinese and US economies as well as confrontation and conflict between the two countries."
"China has always believed that trade and economic cooperation with the US are win-win in nature. In 2018, the bilateral trade in goods and services exceeded US$750bn and the two-way investment stock was close to $250bn. Such cooperation has brought real benefits to the two countries and the two peoples. The Chinese and US economies, deeply integrated and intertwined, represent essential parts to the global industrial chain and value chain. The attempt by a smattering of people in the US to decouple the two economies is simply irrational, unrealistic, and unworkable.
"We hope that some people in the US will drop the zero-sum mentality and look at the development of China and China-US relations in a proper way, and stop smearing and blaming China. Instead, win-win cooperation should prevail over confrontation and supremacy, as it serves the common interests of the two countries and the two peoples."
The latest tariff hike, should it go ahead, will increase cost pressures on the US apparel and footwear industry. Check out the way some brands are managing to mitigate the potential impact.
China has so far responded to each round of US tariff hikes with its own retaliatory actions against US products: US-China tariff war – The textile and apparel hit-list.