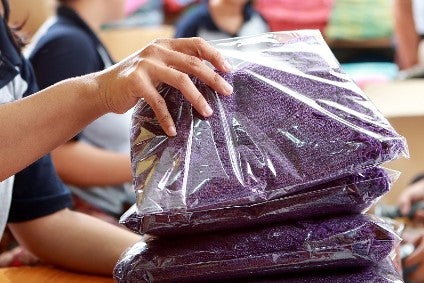 Circularity in fashion is an opportunity that must be explored, a new report from logistics provider DHL has revealed, adding the potential positive impact is "huge".
"The possibilities for fashion and consumer electronics companies in the circularity space are limitless," Frank Appel CEO, Deutsche Post DHL Group said. "A unique chance now exists for brands to deepen their relationships with customers in ways that will quite literally help to save the planet. Logistics players can be the ideal facilitator of this new relationship and its many new moving parts, doing what they do best: orchestrating the intricate flow of goods."
The justification for exploring circularity within the fashion industry is based on the "significant environmental impact" of the sector, which it says drives a large share of greenhouse gas (GHG) emissions and other environmental impacts (including resource, land and water use, as well as waste).
Together with the consumer electronics industry, the carbon footprint makes up about 6% of global emissions. Currently, 20% of garments produced are never used, adds the report from the logistics giant.
Why fashion?
While these industries (fashion and electronics) are resource-intense and in part behind other front-running industries (such as the automotive parts industry) in terms of circularity initiatives, their global consumer and supply-chain reach as well as high visibility make them one of the most pivotal participants of circularity. Specifically, they stand out due to five characteristics:
Resource-intense materials and production processes. Manufacturing in these two industries requires vast amounts of often non-renewable resources (including raw materials and energy inputs) and is the source of significant emission levels.
Relatively few systematic circularity measures. Compared to leading sectors such as automotive parts, for example, the reuse, refurbishing, and recycling processes in fashion and consumer electronics are less advanced and widespread.
High reach and relevance to almost everyone. Some sectors are relatively niche, others have larger consumer bases – and then there is fashion and consumer electronics: almost every consumer is active in these two retail categories in both their private and professional lives.
Very complex and globalised supply chains. The supply chains of these two sectors cross many continents and companies, necessitating sophisticated coordination in the supply chain for maximum impact.
Strong visibility and multiplier effects. The industries are often in the focus of media attention and play a prominent role in the public dialogue. A move toward circularity in fashion and consumer electronics could therefore have broad signaling effects beyond the two industries, with both potentially serving as role models and helping other industries become more circular. While fashion and consumer electronics represent particularly large opportunities in circularity, many of the circularity challenges are universal. Hence, the insights presented here can potentially be applied to other sectors, and industries across the board could certainly mitigate their environmental impacts by making circularity a bigger part of their product life cycles.
One of the ways to achieve circularity within the industry is by extending the product lifetime. The five Rs provide the critical dimensions to achieve circularity, by:
Reducing use of virgin materials in production
Repairing products to extend their first lives
Refurbishing older products to go back on the market
Reselling products to new owners
Recycling products at end of life into materials for new production.
The report adds that where the supply chain is concerned, materials, products, and packaging must be innovated, agile production and novel use concepts launched, and smart product return and recycling developed. To bring these elements to life, supply chains need to be designed in a circular way, while ensuring visibility and close orchestration throughout and establishing circular consumer behaviours.
It sets out the following recommendations for brands and manufacturers as a roadmap to achieving circularity, adding that their responsibility included circularity target-setting and the business model adjustments that move them toward those targets and that ultimately, it is the work of this stakeholder group to also think beyond "products" and move beyond circularity across every facet of their organisations.
Measurable targets. With an eye toward specific reductions in GHG emissions, brands and manufacturers must define the exact and measurable targets related to the five Rs of circularity that make sense for them.
Product and business model innovation. Brands and manufacturers must determine how products might need to be adapted – potentially from design to material use to production – in order to align with circularity. They will also need to pilot the new "circularity-oriented" business models that are most commercially attractive. This includes designing systems that help facilitate customer participation in these models, such as rewarding customers for sending products in for recycling.
Partnerships with peers and suppliers. By definition, circularity relies on the interrelatedness of and communication between multiple players. In order to set up data sharing and define industry standards in this new economy, brands and manufacturers will need to launch partnerships with each other. This also entails supporting smaller suppliers in their transition toward circularity.
Holistic circularity. Finally, brands will look beyond just the manufacturing of their products. The largest share of GHG emissions in fashion and consumer electronics is in production, but circularity at its best is an across-the-business commitment. Industry players should also think about how to drive circularity throughout their entire organizations. Finally, a holistic approach to circularity also includes raising consumer awareness on the topic, such as via marketing campaigns.
The report adds that the actions that logistics players will take involve innovation and transparency along the supply chain and efficiency in transportation. Growing experience will make logistics players essential repositories of knowledge, so they will ultimately be responsible for transferring best practices across industries.
While the work of governments, it adds, will be to use both their economic and legislative influence as well as their immense public platforms to encourage circularity via legislation, incentivise innovation, track progress, and promote awareness of the importance of circularity.
"In summary, circularity in fashion and consumer electronics represents a massive opportunity in the global effort to combat climate change," reads the report. "To recap, up to 75% of the lifetime emissions of a single product can be avoided by using a second-life product. Circularity has started to become a self-reinforcing interplay between manufacturers and consumers, with governments creating a conducive environment for a range of "closed-loop" activities and logistics players providing efficient infrastructure for a new, more complex, environmentally friendly flow of goods. As such, transitioning from supply chains to supply loops puts us on a clear path to reducing GHG emissions."