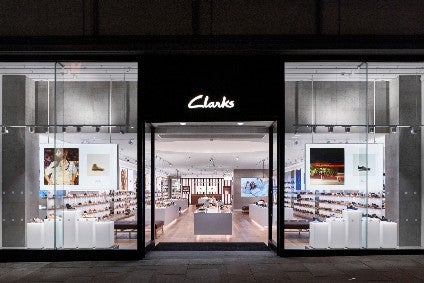 UK footwear firm Clarks has outlined a new strategy that will see the brand make 900 job cuts globally, and introduce digital enhancements as well as a focus on sustainability and product innovation.
The initiative is the latest phase of Clarks' 'Made to Last' strategy that began at the end of last year when 170 employees left the business globally, and CEO Giorgio Presca said the business will continue to review its stores in-line with changing consumer needs.
The strategy will see the 195-year-old shoe brand implement a range of measures to enable a more "sustainable and successful future," with 160 redundancies in its operations around the world, including 108 at its headquarters in Street, Somerset.
A new organisation with an end-to-end operating model will also enable Clarks to deliver its strategy in a "lean, effective and quick manner." This will require a further 700 redundancies over the next 18 months, bringing the total reduction to 900 globally. However, Clarks says this will be partially balanced by the creation of around 200 new roles.
"There are exciting opportunities ahead for our business, and we are having to make some difficult decisions to get there," said Presca.
As part of the strategy, Clarks will focus on "exploiting the brand's potential, leveraging its heritage, its iconic timeless shoes and their consumer relevance in today's market." It will focus on sustainability, product innovation, design and quality, and digital enhancement to help customers properly interact with the Clarks brand, and select and buy shoes in the most convenient ways for their lifestyle.
In March, Clarks announced the temporary closure of many of its stores around the world to protect staff and customers during the Covid-19 pandemic. Since then the company has begun to reopen in China and in some markets in Europe and is closely following guidance from the governments and health authorities in the UK, US and elsewhere to reopen when it is safe to do so.
To prudently address the short-term liquidity needs caused by the Covid-19 crisis, the Clarks leadership team has also been reviewing funding options to position the business to deliver its strategy and enable future growth, it says.
"To ignite our emotional connection with consumers, we have organised Clarks' brand portfolio across three distinct business units that each represent a unique segment of the shoe market – Clarks Originals, Clarks, Collection and Cloudsteppers by Clarks," said Presca. "This is helping us move fast to get ahead of the changes in the ways that our consumers live their lives, so that we are there for them every step of the way."
In 2019, the footwear retailer reported full-year losses of GBP82.9m (US$106.8m) as turnover slipped 4.6% to GBP1.47bn.
Failure to adapt
Failure to adapt has left Clarks in a weak position to withstand the Covid-19 crisis, says Patrick O'Brien, UK retail research director at GlobalData.
"Clarks is in a typical mid-market squeeze: like M&S it is a heritage brand that has been too slow to adapt to a changing market – both in terms of product development (with the athleisure trend driving growth) and addressing the shift to online. The footwear specialist's share of the UK footwear market has plummeted in recent years with Clarks falling from the market leader in 2014 to the third biggest player in 2019, overtaken by the leading sports retailers.
"At the end of its FY2019, Clarks had 521 stores in the UK (including concessions), and while it began a portfolio review in 2017, it really should have started the process of eliminating stores much earlier, as the channel shift over the last decade has not come as a surprise. Progress has been at a snail's pace – while it has shut some concessions it had the same number of full price stores in the UK at the end of FY2019 as it did at the end of FY2018.
"A lack of decisive action over the last five years has hindered Clarks but chief executive, Giorgio Presca who joined in 2019 has demonstrated that he is keen to make significant changes, evident from the swathes of head office cuts announced."