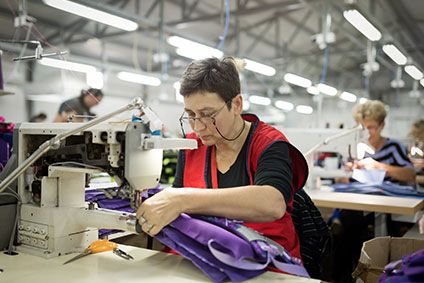 The coronavirus pandemic is going to force many changes in the way clothing factories have operated for hundreds of years and companies must start to consider the steps they can take to safeguard workers as facilities begin to come back online.
In a webinar this week, the CEO of WRAP, Avedis Seferian, and the SVP of policy at the American Apparel and Footwear Association (AAFA), Nate Herman, discussed what steps companies should be considering as factories move from a lockdown status to restarting operations.
While actions taken so far by the vast majority have been "immediate", the two said companies need to be thinking of these "for the long haul" as many of the decisions taken will become "standard operating procedures".
"These are challenging times and we are hurting economically. There will be significant cost implications. But at the end of the day, the safety of workers and people comes first," said Seferian.
The core elements of reopening facilities will include physical distancing, ensuring there are sanitisation measures in place including minimising touchpoints and proper identification, and isolation of risky cases.
"Start thinking long-term from a management systems point of view, risk-based scenario planning, how you would plan regular business operations because that's what this is going to become — it will become part of the daily operations.
"It will require flexibility. We want to give solid advice but we are still operating in a fluid environment and you will need to change with it and those changes could be quite rapid. Make changes but be prepared to tweak them regularly and quickly," Seferian added.
Equally important is communicating whatever the plans and procedures are, whether with buyers, manufacturers or workers. Communication should be two-way.
"In uncertain times the clarity of instruction will prove critical, even if it changes day-to-day."
Of the key elements for returning factories to work, the following should be considered:
Whether certain roles in the factory can be done virtually; ie office roles, accounting, etc. If certain roles can be done remotely, they should and any other opportunity to reduce the density of people in the premises should be explored.
Limiting touchpoints: Entry and clocking in procedures should be made as contactless as possible and considerations should be made to limit contact with internal doors and other high touchpoints.
Create an overall plan and a team that is properly empowered, with senior managers, local representatives, and, where available, qualified medical officers.
Properly communicate with workers so they are assured all contingencies have been thought of and know what they need to do and who they need to talk to should the need arise.
Measures in place for if a worker tests positive including exploring who the worker has had contact with and a facility shutdown for deep cleaning.
Temperature checks at points of entry and consideration of making hand sanitiser use mandatory. For factories considering disinfectant tunnels, they must ensure they take account of risks from the exposure to such chemicals.
Ensuring no overcrowding at entry points which might involve staggered arrival times and no overcrowding in other areas such as restrooms.
Limits placed on non-associates in factories and if they need to be there, they follow the same rules as workers.
6ft distance between workers, though this may result in having to implement staggered arrival times. In other cases, it might involve line reconfiguration.
Establish a cleaning procedure with a dedicated team to regularly disinfect the common areas and high touch surfaces. Most guidance suggests every four hours and between shifts.
All personnel should be required to wear face masks that cover the nose and mouth. Be clear about who provides these.
Personnel should, where practicable, wear gloves, such as in sorting and packing roles.
Ensure workers are trained and regularly reminded of things such as physical distancing, regular and proper washing and sanitising of hands, wearing masks and avoiding touching of the face.
The wider implications of factories returning to work also have compliance issues that must be considered, Seferian noted.
"We do anticipate as factories come back online and rush to catch up there will be some issues that are going to be rearing their heads. These could include working hours, recruitment practices.
"Circumstances caused by the lockdowns mean there won't be a shortage of workers but the question is are you going to be able to do it in a responsible way. Will signing up to work be done voluntarily, safely, and paid for properly? They are key elements we want to make sure you don't lose sight of. Some negative consequences might result in terms of challenges with regards to forced labor and so on. These are things you don't want to forget about."
Seferian said companies should expect the impact on apparel sourcing costs as a result of implementing safety measures, to rise significantly.
"It's safe to say there will be changes [to sourcing costs]. I don't see how some of these measures can be implemented in a cost-neutral fashion. How that is going to be passed on and absorbed is going to be fascinating to explore.
"The bigger question is really what is going to happen with demand as we all get back to shopping and buying? Are we going to be back to normal by December, January? Is it going to be something that is going to permanently depress certain categories?
"I do believe there are going to be fairly significant changes in sourcing — in terms of categories, in terms of pricing. I would suggest this be seen as a supply chain problem. It's not enough to say all costs are absorbed at one or the other end of the spectrum. Good communication can be not only critical, but the difference-maker in this situation so that all sides understand where the costs can be absorbed."