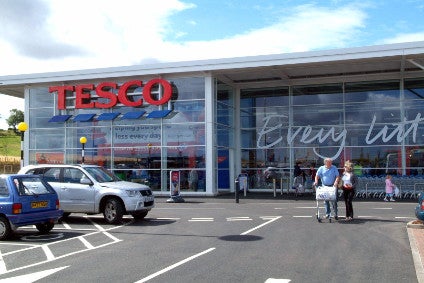 UK supermarket retailer Tesco posted its twelfth consecutive quarter of positive sales growth, with its clothing sector outperforming the market throughout the Christmas period as its F&F ranges continue to prove popular with customers.
In its third-quarter and Christmas trading statement published yesterday (10 January), Tesco said group like-for-like sales grew by 0.5% in the third-quarter and were up by 1.5% in the Christmas period.
The retailer hailed a 1.9% rise in third-quarter UK and Republic of Ireland (RoI) like-for-like sales which it said reflected the transition to new own brands and the subsequent resetting of product mix in the UK. UK & ROI Christmas like-for-like sales were up by 2.6%, outperforming the market in the UK in both volume and value terms.
Meanwhile, clothing sales increased by 3.8% during the 19 week period combining the third quarter and six-week Christmas period, aided by a particularly strong womenswear performance.
"As a team we have achieved a lot in the last 19 weeks. In the UK we delivered significant improvements in our competitive offer and this is reflected in a very strong Christmas performance which was ahead of the market," says CEO Dave Lewis. "In Central Europe, the reshaping of our business continues and we are confident of the outcome we envisaged. In Asia, negotiations with suppliers are concluding satisfactorily and we can see this in our simpler, clearer, more impactful offer for customers.
"We have more to do everywhere but remain bang on track to deliver our plans for the year and as we enter our centenary we are in a strong position."
Thomas Brereton, retail analyst at GlobalData, notes that while all generally appears rosy at the UK's largest retailer, "Tesco could be set for a very challenging 2019 as its rivals are all taking a more active role in determining their position in 12 months' time."