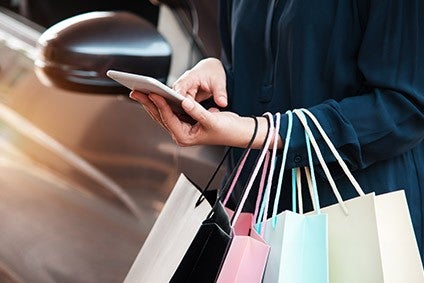 Multichannel shopping over the Thanksgiving weekend was up by more than 40% on last year – with apparel the top purchase, new figures show.
From Thanksgiving Day through Cyber Monday, more than 165m Americans shopped either in stores or online, surpassing the 164m who had said they would shop in a consumer sentiment survey conducted ahead of the holiday.
According to the survey by the National Retail Federation (NRF) and Prosper Insights & Analytics, which was carried out from 24-25 November with 3,058 consumers, the average shopper spent US$313.29 on gifts and other holiday items over the five-day period. Of that, $217.37 or 69%, was specifically spent on gifts. The biggest spenders were older millennials and Gen Xers (35-44 years old) at $413.05.
And consumers seamlessly shopped across all platforms throughout the weekend. The survey found more than 89m people shopped both online and in stores, up nearly 40% from last year. The multichannel shopper outspent the single-channel shopper by up to $93 on average.
Top purchases over the weekend included apparel (bought by 57% of those surveyed), toys (34%), books and video games (29%), electronics (26%) and gift cards (20%).
While the top shopping destinations included department stores (42%), online retailers (38%), apparel stores (30%), grocery stores (30%), discount stores (29%) and electronics stores (27%).
"For several years, we've been talking about the dynamic nature of the retail industry and the speed of change necessary to meet the consumer demand," NRF president and CEO Matthew Shay said. "This year's research clearly shows that the investments made by retailers are paying off in a big way. Over the last couple of days, what I heard in discussions with retail CEOs across all categories and segments was very positive, driven by macro conditions of low unemployment and rising wages combined with the right mix of merchandise at great prices. This is a very strong emotional start to the holiday season and a positive indicator of where we are headed over the next month."
The most popular day to shop online was Cyber Monday, cited by 67.4m shoppers, followed by Black Friday with 65.2m shoppers.
The most popular day for in-store shopping was Black Friday with more than 67m shoppers, followed by Small Business Saturday with 47.4m shoppers. Also, 66% of smartphone owners used their mobile devices to make holiday decisions, up from 63% last year.