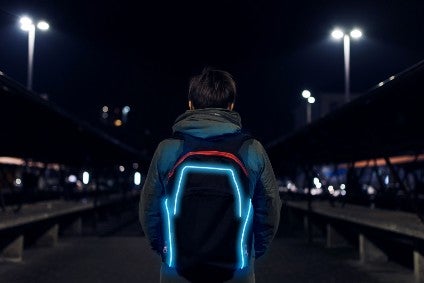 Industrial thread maker Coats has partnered with global lighting specialist Osram to develop a lightweight and customisable LED light system designed for application in activewear or workwear.
Coats Signal Active Illumination offers a visibility range around three times greater than retro-reflective products are able to achieve. It is made of flexible light guides, which draw their energy from a USB power bank, the size of a credit card.
The system retains a charge for up to eight hours, which as the average length of a work shift, is especially relevant to those wearing it as part of their workwear. The power bank can be easily unclipped and removed to enable the garment including the LED light system to go through machine washing and drying processes.
"Combining our deep expertise in textiles with Osram's wide technical knowledge of lighting will shape the next generation of high visibility work and activewear," says Adrian Elliott, president, apparel and footwear, Coats.
"Homogenous illumination in garments will literally power improvements in people's visibility and therefore also their safety. The potential to extend the range to respond to sensory safety detection for instance approaching vehicles, vital signs of the wearer or a sudden fall could create a life saving product."
The LED lights are available in a range of colours: amber, blue, green, red, yellow, cool white and warm white, which can be used singly or in combinations. There are different settings of permanently on, flashing or soft pulses. Further developments are planned in the form of sensor integration and internet connectivity to add functionality which helps further improve people's safety.
Adarsh Murthy, CEO business segment industry, Osram, adds: "We have a very synergistic partnership with Coats that allows us to create and shape a totally new market. The convergence of two industries, lighting and textiles, with two leading players in this market presents an excellent opportunity for innovation in our quest to make the world a more safer and enjoyable place."
There are also piping solutions designed for easy integration into garments and accessories. The range consists of retro-reflective perforated piping, mesh piping, and piping integrated into retro-reflective tapes. These offer passive illumination through retro-reflection as well as active illumination in combination with light systems. They also offer a cost-effective manufacturing option for incorporating light systems into existing designs.
Coats Signal Active Illumination is a low voltage device (5V) and complies with the requirements of all relevant standards including CE, RoHS and REACH. The partnership follows a successful pilot with a small group of customers in Germany.