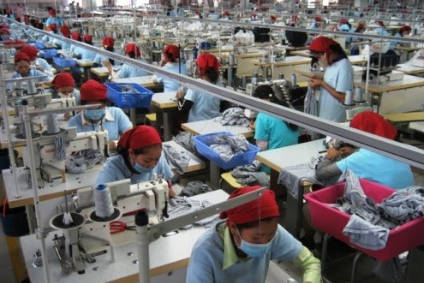 For the first time, brands will be able to access Fair Wear's complaints system under a new partnership between Fair Wear Foundation, the German Partnership for Sustainable Textiles (PST) and the Dutch Agreement on Sustainable Garments and Textile (AGT) aimed at better helping garment workers in Vietnam and India.
"Joining forces is an important step towards providing more workers with better access to remedy and facilitate cooperation among brands," says Fair Wear's associate director Margreet Vrieling.
From now on, Seidensticker, Esprit, s.Oliver Group, G-Star and HEMA will use Fair Wear's complaints mechanism in garment factories in Vietnam and India, next to the 130 Fair Wear brands. The five brands are either members of the German PST or signatories to the AGT. Workers in the supply chain of these brands will now have access to Fair Wear helplines to address labour rights violations.
The participating brands and PST and AGT say they see it as s a great opportunity to complement the already ongoing work on providing access to remedy.
"Our signatory brands already have channels in place and since 2017, AGT operates a grievance and complaints mechanism used for issues which cannot be solved by involved parties themselves," says Pierre Hupperts, chairman of the AGT. "Fair Wear's complaints helplines provide garment workers with a welcome and easily accessible channel to file their concerns. This is of great added value for the involved brands."
Providing workers with the opportunity to easily and safely voice their concerns – like excessive working hours, problems with payments, and ensuring steps are taken to remediate them – is crucial in identifying common problems. On its website, Fair Wear publicly reports about incoming complaints and how they are dealt with.
Vrieling says: "This is especially relevant now that Covid-19 has made it so difficult for brands to visit factories. Complaints can now serve as an even more important source of information about what's happening at the workplace."
By cooperating, the three organisations aim to increase the impact of the complaint helplines and to align existing structures. Together with civil society organisations such as FEMNET and Arisa, as well as local stakeholders, the MSIs and brands will evaluate the use of the Fair Wear mechanism and discuss needs and ideas towards a jointly usable system.
"This is an important step towards scaling effective complaints mechanisms through cooperation. We're looking forward to the results of this first project phase and are already working on additional scaling options to provide more workers with access to complaints and remedy systems," says Jürgen Janssen, head of the PST Secretariat.
s.Oliver Group, adds: "We would like to further develop our existing approach to complaints and remedial action in our supply chain. This cooperation gives us the opportunity to address this issue more efficiently and, most importantly, together with various actors such as the Fair Wear Foundation. In this way, we can avoid a multitude of different channels and facilitate access for workers throughout the industry."