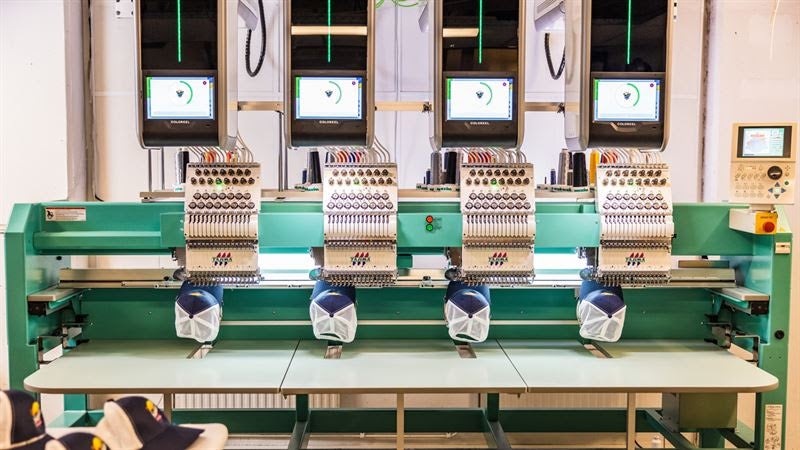 The textile innovation brand has received the Encouragement for Action award in the category for Fashion Innovation from the Stockholm Fashion District.
The Fashion Innovation category is awarded each year to a company that has "gazed a bit further into the future" and with the help of innovation, contributed to a more sustainable fashion industry, the Stockholm Fashion District says.
Coloreel's technology for embroidery enables colouring of textile thread on demand, helping to move the textile industry towards more sustainable production. By colouring the thread directly, there is no wastewater, hence no water pollution. In addition, by using a single reel of thread and needle, thread waste and microfibre pollution is also minimised.
"Coloreel being awarded with the prestigious Encouragement for Action Fashion Innovation Award is yet another proof that our ground-breaking technology for modern, creative, and sustainable embroideries make an impact. Even the smallest decorations such as embroideries are important to consider in the fashion industry´s quest for a more sustainable future," says newly-appointed CEO, Torbjörn Bäck.
The news comes as Coloreel has partnered with D-house in a move that will see its technology demonstrated at D-house's design and technology centre for fashion brands in Milan, Italy.
"The D-house partnership is a great opportunity for Coloreel to demonstrate our technology and for the fashion world to learn how to enhance consumer experience and perception of their brands through a new level of modern, creative, and sustainable embroideries," Bäck adds. "D-house's location in the centre of Milan and their expertise in running design projects will provide a perfect hub for different customers to experience the Coloreel technology hands-on."
Visits and demonstrations at D-house are available through appointment. Customers, designers, and fashion brands will be able to experience D-house capabilities and Coloreel technology on 7 September during a D-house open house.
D-house and Coloreel will also co-exhibit on selected industry trade fairs, starting with Lineapelle in Milan on 22-24 September.