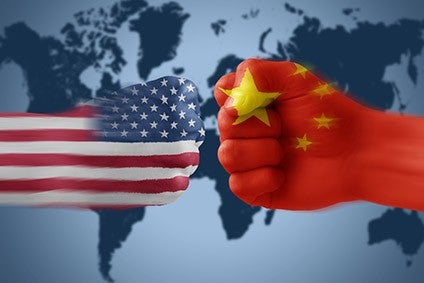 The CEO of Columbia Sportswear has called the trade war between the US and China "very disruptive to business" adding it is forcing apparel and footwear brands to focus on sourcing instead of selling.
In a televised interview with Bloomberg, Columbia Sportswear's CEO Tim Boyle explained the prospect of tariffs were a headwind for all US apparel and footwear businesses, adding it meant they had to spend more time managing their sourcing operations when really they should be focusing on managing their sales operations.
Boyle said Columbia Sportswear predominantly sources its product from South East Asia and China only represented a high-teens percentage of its total importation but the trade spat is still disruptive for its business.
"It's causing problems and we are spending time on this topic when really we should be spending time selling products globally and taking advantage of the technologies we've established here in Portland and the brands we've established.
"Our company is quite adept to moving production around to take advantage of tariffs. As an example, much of what we sell in Europe is sourced from Bangladesh because there are no tariffs in that area so its an advantage of about 15% for the company when we are sourcing products into Europe. These tariffs exist in almost every country we work in but you establish a relationship with the factory, you have intellectual property and establish processes for doing business which you can't replicate in two seconds moving around to some other factory.
"These are important relationships we want to keep and we have to focus on building these."
Boyle also pointed to concerns that with more companies shifting production to markets Columbia sources heavily from, the price it paid for products could ultimately go up and end consumers may see that reflected in the prices they paid for products.
"We are already finding competitive pressures in those markets and this will continue," he said.
Asked if Columbia would be passing the costs on to consumers, Boyle responded "we will if we have to".
"These are taxes on products that American consumers are purchasing so yes these taxes will be passed on."
The US absorbs the largest amount of apparel shipments from China at around 40%, way ahead of the second largest exporter to the US, Vietnam at around 14%.
In the most recent data from the Department of Commerce's Office of Textiles and Apparel (OTEXA), apparel imports into the US declined 5.5% year-on-year for the month of March, fuelled by a 13.29% drop in shipments from China. Month-on-month, Chinese apparel imports into the US fell 47%.
Earlier this month the Trump administration moved forward on threats to impose a 25% tariff on nearly all Chinese exports to the US and China retaliated with tariffs on $60bn worth of imports from the US effective 1 June.
Last week a coalition of 173 US footwear brands including Columbia Sportswear, Nike and Adidas penned a letter urging US resident Donald Trump to remove footwear from the proposed tariffs list on goods imported from China, saying it would be "catastrophic" for companies, consumers and the American economy as a whole. The letter stated the proposed hike would add US$7bn in additional costs for its customers every year.